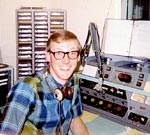 Don on Oldies-formatted KWIZ, 1967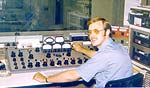 Don Kent on the board at KNX, 1972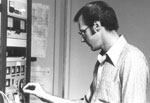 Don Kent taking transmitter readings at KFWB, 1973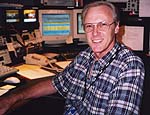 Don Kent in the KTLA-TV control room, 2004

Don Kent graduated high school in early 1964 and writes:
"I had NO idea what career path to take. During my Senior Year I browsed through several college catalogs and came across "broadcasting" at Los Angeles City College. That sounded like fun. Besides, my dad had been in radio during WWII and it was sort of like following in his footsteps; well, kinda! I did pretty well at it, getting straight A's and a place on the Dean's List, so I figured that I'd found my "calling".
Back in those days I collected a bunch of aircheck tapes from my, then, favorite stations. I studied the techniques for school, but I just liked listening to them, too. Eventually, I connected with others who had done the same and we traded.
While I was still in school I took a job doing the news part-time at KBLA in Burbank, CA. That was in 1965. It worked into a job offer from KWIZ AM/FM, Santa Ana, which, so far as I know, was the first all-oldie station anywhere.
That ended in 1969 and I returned to the station in Burbank, which was now KBBQ (Country). I HATED the Country format, but by then I had a wife and son and I needed the job (didn't have to turn the monitor up, though!).
The P.D. from KLAC, Los Angeles, heard me on the air and offered me a job at his station. Needless to say, I took it. After several months I switched over to the Engineering Department there. The station was co-housed with KMET-FM and I did Production-Engineering for both.
In 1970 I moved over to KFWB, Los Angeles, as a Production Engineer. A couple of years later I briefly moved to KNX/CBS but didn't much care for it and returned to KFWB, where I stayed until 1979. That's when I moved over to television, where I did freelance audio work (common in that business) for a short time.
That led to a staff offer from KTLA-TV in 1980. I started there doing "doofus work", but moved up the ladder to the position of Senior Engineer and later Crew Chief.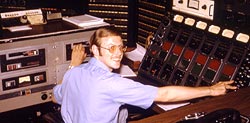 Don Kent on the Pacific Network Switcher in CBS Central Control on the first floor of the CBS Radio building in Hollywood. This is the switcher that controlled all the network traffic during the heyday of live radio. It was still in use in the '70's. The CBS Network was "reversible", that is, programming could originate from any O&O station on the network.

Since moving to television my aircheck interests switched to restoration of early videotape recordings. I did all the restorations for the UCLA Film and Television Archive between about 1987 and 2002. In 1988 I won a Primetime Emmy for restoring the earliest television show recorded on color tape; "An Evening With Fred Astaire" (1958). Since then I have done several others, including The Nixon-Krushchev "Kitchen Debate" for the Library of Congress. I'm real proud of how those early shows turned out.

Many years ago I collected rock 'n' roll records, but the "sound" changed from what I liked and I hung that up. I still have about three thousand records from back then though.

In the intervening years since college, I just put those old aircheck tapes on a shelf in the garage. I haven't listened to them since the early 70's but they still sound pretty good, so enjoy!

The Repository thanks Don Kent for sharing!