TOP STREAM 32Kbps (12Khz)


. . . a lot of people sprained their tail feathers, learning the Harlem Shuffle . . .
[Description by Uncle Ricky from notes by contributor Don Kent]
And now, Ladies and Gentlemen: Hour Four of the First and Original History Of Rock And Roll hosted by Robert W. Morgan, the Ultimate Narrator for the debut presentation of the first Radio Rockumentary.
Originally broadcast from 3PM-4PM on February 21, 1969, and recorded by contributor Don Kent, this program defined all the programs that followed. It was the first, produced by Ron Jacobs, The original Boss Radio Boss.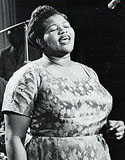 Willie Mae Thornton Following the unprecedented success of this legendary broadcast, Jacobs left KHJ later that year.
This original KHJ Hour focuses on early R&B and the emergence of 60's girl groups. Willie Mae "Big Mama" Thornton is heard with the original version of Hound Dog, and interviews with the immensely successful songwriting and production team of Jerry Leiber and Mike Stoller are featured. Seminal R&B superstars Little Richard and William "Smokey" Robinson are also included.