TOP STREAM 44Kbps (11Khz)


. . . I've been doin' this for years . . .
[Description by Uncle Ricky from notes by contributor Don Kent]
This is the fifth hour of the First and Original History Of Rock And Roll, as broadcast by KHJ between 4 and 5PM on February 21, 1969. Our host is Robert W. Morgan. Charlie Tuna is heard in the breaks with live voiceovers and tags.
Recorded off the air on reel tape by contributor Don Kent, this program defined all the "music documentary" programs that followed. It was the first, produced by KHJ Program Director Ron Jacobs.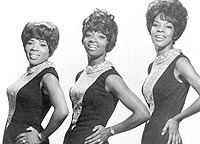 Martha & The Vandellas Following the unprecedented success of this legendary broadcast, Jacobs left KHJ later that year. RKO made the show available to the other stations in their group, narrated by station-specific talent. When RKO was done with it, Drake-Chenault offered a re-recorded version in syndication three times between 1972 and 1982.
This original KHJ Hour opens with the focus on Motown artists, including Martha & The Vandellas, and it closes the first R&B segment of the rockumentary. Also featured: classic R&B artists like Aretha Franklin and Otis Redding, and some examples of how soul music of the 60's influenced rock 'n' roll.
The morse code REELRADIO "copymark" included in this exhibit is a reminder that duplication and distribution by trade or sale is illegal and inappropriate.