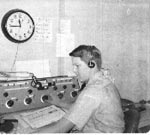 Dave Mitchell (18) at his first job in radio at KEIR-FM Dallas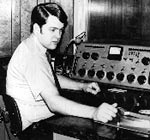 Dave at KFWR in San Angelo, Texas, in 1971.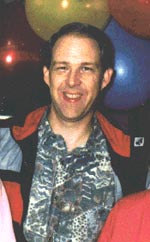 Dave Mitchell today

After growing up in suburban Dallas in the 1950's and early '60's, listening to legendary stations KLIF and KBOX, Dave Mitchell shunned his parents' plea to become a third-generation banker. Hearing the great talents in Dallas left no doubt in Dave's mind as to what he wanted to be. How he managed to talk his father into using his college money for broadcast school he has since forgotten — but he thinks a lot of whining and crying was involved.
Top 40 radio was the greatest influence of his life in his formative years. At night, Dave switched to KOMA in Oklahoma City and WNOE in New Orleans. WLS also put a great signal into North Texas.
In 1966, after graduating from Elkins Institute in Dallas (where Rusty — now Rush — Limbaugh was a schoolmate), he made the long trek through every one-horse market in Texas and Mississippi before landing his first major market Top 40 gig at KONO in San Antonio, in 1972.
It was 1979 before Dave was able to make it back to his beloved Dallas where he worked at KMZK, KXVI, and KAAM. Next came stops in Charlotte (WLVK, WRHI), and Miami (WIOD, WBSS, WKIS) in the '80's.
Like most jocks, Dave found himself "between jobs" more than once. In 1984 he took a "temporary" job working as a traffic reporter for Traffic Patrol Broadcasting, which was later purchased by Metro Networks. He's was with Metro in Miami for 16 years. To his knowledge, he is the only person to have had his fair work on every English-language station in South Florida (over 40). Being a traffic anchor allows him to still be in radio, but with a job stability unknown at radio stations.
Dave returned to Dallas-Fort Worth in 2000, still working for Metro Networks, doing traffic and hourly newscasts on KAAM-AM, WRR-FM, KRNB-FM and KKDA-AM.
Still, there are times Dave fantasizes about buying a 250-watt AM in a single-station market and trying his hand at recreating the Golden Era of Top 40. Who knows? To quote the young boy in Angels in the Outfield, "...it could happen." As of 2009, Dave is semi-retired and living in West Palm Beach, Florida.
The Repository thanks Dave for sharing!