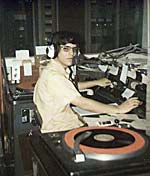 Steve Eberhart (16) at KGAF Gainesville TX, 1973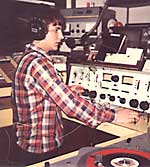 KIKM, Sherman, 1976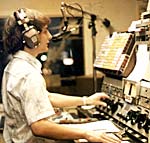 KVIL, Dallas, 1978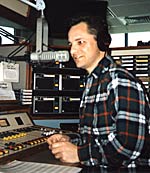 KDMX "The Mix" Dallas, 1994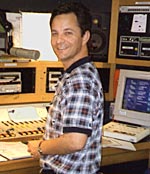 ABC Radio Network, Dallas, 1998

Steve Eberhart grew up in Lindsay, Texas, listening to KLIF, the "Mighty 1190" in Dallas. While sitting on a tractor on his uncle's farm in 100 degree Texas heat, he imagined what it would be like to be one of those disc-jockeys at KLIF. He made the decision to become a DJ at age 12. At 15, he passed the FCC 3rd class license exam and got his first radio job at KGAF in Gainesville, a country station, in December of 1973. He worked there through high school and after graduating went to KIKM in Sherman, Texas, a bona fide "Top 40" station complete with processing, reverb, TM jingles, and a very tight playlist of hits! He worked there for a couple of years while in college and then got the call for the big time at KVIL.
Ken Barnett, a former KIKM jock, was already at KVIL and suggested that Steve apply at KVIL. Program Director Ron Chapman hired him on the spot and in a couple of months was full time, working there for six years in various shifts.
Steve left KVIL to do afternoons at KLUV for four years where he worked with Rick Peters, the legendary Art Roberts, Dave Van Dyke, and Chuck Brinkman. He returned to KVIL as music director for three years and then joined KDMX for three years before the ABC Radio Network and their "StarStation" A/C format. He moved to Austin to work for Capstar on "StarSystem", doing voice-tracking across the southwest. As of January 2000, he has moved back to Dallas and is heard on the ABC Radio Network Starstation format.
Steve had the pleasure of working with some of the best, many who at one time or another worked at the legendary KLIF in Dallas. By the time Steve got on the radio, KLIF had already seen its better days. In 1998, Steve noticed a number of web sites for legendary top 40 stations, but a lack of anything about KLIF and Gordon McLendon, so Steve created KLIF History. The site includes much memorabilia and Steve has been contacted by virtually everyone still around from the glory days of KLIF.
In 1983, Steve called Gordon McLendon and talked about the old KLIF. Steve says, "Amazingly, he was quite forthcoming about it all. It appeared to me that no one had asked in a while. Of course, he would have been the one to write the history of KLIF, but he passed away in the mid 80's. This all brings us to my reason for being interested in KLIF. It was a HUGE station by all measurements, and commanded almost all the listeners in North Texas in the late 50's, all of the 60's and some of the early 70's. When it was hot, which was for a LONG time, it was untouchable. It is no doubt one of the most influential stations in the history of modern radio. McLendon and his staff were exceptional talents, many of whom continue in radio today. The tapes contributed to REELRADIO are from my private collection gathered from my own taping of KLIF years ago and from exchanges with others along the way. Enjoy!"