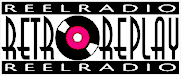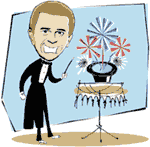 "AMERICAN TOP 40's quarterly special,
The 40 Greatest Disappearing Acts of the Rock & Roll Era
, will present the forty recording artists who, since 1955, had one huge hit ... and never made the Billboard singles charts again. Where are they now?
Millions of listeners in over two hundred cities throughout the United States and around the world will be brought up to date by American Top 40's third anniversary special presentation.
Six months of detective work by American Top 40 researchers have turned up 40 fascinating stories on what happened to 40 now-faded rock stars of the 50s and 60s, and whether they succeeded, or failed, in making their transition back to the real world."
- Watermark Press Release, 1973
How BIG is Pete Battistini's AT40 Collection?
Contributor Pete Battistini shared these pictures of his amazing collection of AT40 programs. We were impressed and you will be, too! Thanks, Pete, for all your contributions to REELRADIO!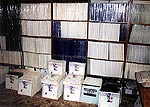 TOP STREAM 64 Kbps STEREO (12KHz)

Casey Kasem, American Top 40 Greatest Disappearing Acts, July 7, 1973 Part 1 (48:15)
Casey Kasem, American Top 40 Greatest Disappearing Acts, July 7, 1973 Part 2 (48:36)
Casey Kasem, American Top 40 Greatest Disappearing Acts, July 7, 1973 Part 3 (48:07)


This exhibit was A REELRADIO SPECIAL PRESENTATION FOR INDEPENDENCE DAY WEEKEND, July 4-6, 2003 and July 3-5, 2009.
[By contributor
Pete Battistini
]
During the infancy years of Casey Kasem's "American Top 40" radio program, it was common for special programs to replace the regular countdown of current hit records. A few of those specials included "The Top 40 Artists from 1967-1972," "The Most Extraordinary British Hits of the Rock Era," and "The All-Time Christmas Countdown." These programs were used as marketing tools to make the show more attractive to subscribing (and prospective) radio stations, advertisers and listeners. In fact, in 1972, '73, '74 and '75, there were five weeks each year (including year-end countdowns) where special programing replaced Billboard magazine's weekly Top 40.
From July 7, 1973, AT40's third birthday, here is one of those specials, "The Greatest Disappearing Acts of the Rock Era."
For enthusiasts of AT40 like myself, its extremely interesting to gain access to script cards used in the program's production. These 5x7 cards were the actual in-studio, intro/outcue notes that Casey used when recording the program. A sample card from the Disappearing Acts special is included with this exhibit! Note the handwritten script revisions by producer Don Bustany and, at the end, Casey's addition of "Ra Ta Ta Ta."
It is purely speculation on my part as to where the idea for this special originated, but I believe that it was likely inspired by a listener's letter/question that was answered by Casey during the AT40 program dated August 5, 1972. In part, here's the question and response. "What artist made the biggest impact on the chart and was never heard from again?" "There's a lot of drama packed into that question -- success, fame, wealth.......and oblivion. And it all happened to a Belgian woman (the Singing Nun) in 1963, when a single record and an album by her (Dominique) both hit #1 on their respective charts.........And she never appeared on either chart again."
I believe that the research that went into finding the answer to that question resulted in the first AT40 one-hit-wonder compilation. (For this special, Dominique comes in at #4.) The program theme of this show was extremely well-received and an updated version was produced and aired on April 5, 1975.
Finally, the list of songs from this and other AT40 specials can be found in Rob Durkee's book, "American Top 40, The Countdown of the Century." Casey Kasem passed away on Sunday, June 15, 2014. He was 82.