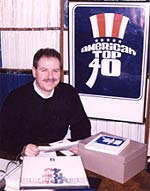 Pete Battistini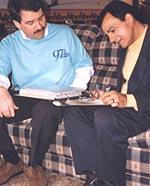 Pete Battistini and Casey Kasem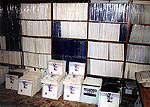 Contributor Pete Battistini shared these pictures of his amazing collection of AT40 programs.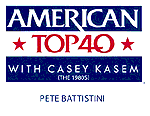 Long regarded as an expert of Casey Kasem's American Top 40 radio program, Pete Battistini was born in Gary, Indiana in 1955. Thirteen years later he picked up his first radio station record survey — a Top 40 listing of the WLS (Chicago) Hit Parade. This lead to a fascination with artist and music variety typically found in Top 40 radio and in Top 40 countdowns.
In 1971, Battistini heard Casey Kasem's American Top 40 for the first time and was instantly captivated. He has accumulated one of the largest collections of American Top 40 memorabilia. His enthusiasm for Casey Kasem's radio show carried over into a desire to document AT40 program information, the 1970s in particular.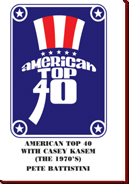 Pete's book, "American Top 40 with Casey Kasem (The 1970's)" provides highlights and summaries of nearly 500 AT40 programs from the 1970s, along with a highly-detailed list of all subscribing AT40 radio stations. Peppered with various anecdotes and perspectives, Pete opens up his archives and offers more than 100 AT40 illustrations — memos, documents, advertisements, photographs, script cards, radio surveys and much more — to give a "Casey's coast-to-coast" inside look at America's favorite hit parade.
In 2011, Pete has published AMERICAN TOP 40 WITH CASEY KASEM (THE 1980s). This perfect-bound 501-page book includes Casey Kasem analyzing the Five Different Caseys. Battistini painstakingly documented approximately 425 weekly, Casey Kasem-hosted countdown programs from the 80s, and compiled individual program summaries for each week exclusively for this book. In addition, the text includes a complete list of all radio stations, in the U.S. and around the world, that carried the program. Coupled with numerous testimonials of both AT40 insiders and listeners, and more than a hundred illustrations from the 80s, this book is brimming with highlights of the greatest radio program ever!