TOP STREAM 32Kbps (10KHz)


Dick Clark American Bandstand 1981 Pt.3 (43:34)

This Exhibit 'SCOPED (16:38)

. . . Nothing ever changes. That show is kids dancing to music . . .
[Description by Uncle Ricky, Contributed by Pete Battistini]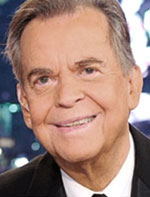 This is the last of the Dick Clark American Bandstand 30th Anniversary reels donated to REELRADIO by Pete Battistini, produced to promote the ABC-TV Special presented on October 30, 1981.
Part Three of this radio special includes more first-person recollections from Dick Clark, and guests Chubby Checker, John Felton, Frankie Valli, Bruce Bell, John Sebastian, and Clark's producer, Larry Kline. Gene Weed is our host.
Clark talks about the influence of disco on American Bandstand, the show when only three kids showed up, and the way he wants to be remembered. And... can Dick Clark dance?
Dick Clark passed away on April 18, 2012.