TOP STREAM 64Kbps (14KHz)

Casey Kasem, American Top 40 for AFRTS, October 20, 1973 (55:59)
. . . We're heard around the world on more than three hundred and fifty American Forces radio outlets . . .
[Description by Uncle Ricky, Contributed by Pete Battistini]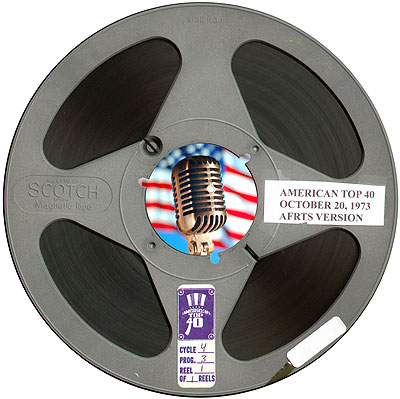 This is the second of a handful of AFRTS-version American Top 40 reels donated to REELRADIO by Pete Battistini.
In the early 70s, Watermark produced a one-hour AT40 program for AFRTS affiliates every week. They took the last hour and added a special AFRTS beginning and ending and, between the split logos, mixed in commercials voiced by Casey Kasem and designed exclusively for servicemen.
Pete believes that these reels originated directly from Watermark and were recorded from the master tapes. The fidelity is superb! This reel has been mixed and processed for presentation by REELRADIO. Please remember, duplication for trade or sale is illegal.