TOP STREAM 441Kbps

Jack Armstrong and Dee Brockwell, WMQX-FM Greensboro 2003 (VIDEO) (06:23)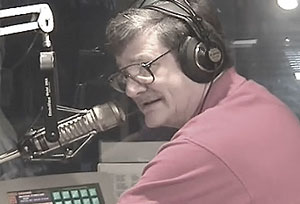 . . . talk about your work pilin' up on ya . . .

[Description by Uncle Ricky]

Jack Armstrong

(d. March 23, 2008) and

Dee Brockwell

are the Breakfast Bunch at

WMQX-FM

in Greensboro, North Carolina.

This multi-camera video aircheck from Wednesday, November 19, 2003 shows a legendary music radio entertainer looking healthy and happy.

Video from California Aircheck Video #98.