TOP STREAM 32Kbps (10KHz)

Jack Armstrong, WWKB Buffalo NY October 31 2005, Part One (01:03:32)
. . . truth is stranger than fiction, and I'm too dumb to make these things up . . .
[Description by Uncle Ricky]
The late Jackson Armstrong (d. March 23, 2008) tracked this show from his home studio in Greensboro, N.C., and both parts of this two-part exhibit from WWKB demonstrate his mastery of the technique. It's likely that most listeners had no idea that Jack wasn't actually at the station.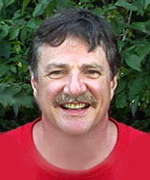 Jack Armstrong For my preference, Jack talks too long but not often enough! That is, he has very long "infotainment" segments, but the station format has lots of "no jock" segues, using promos and jingles instead of allowing Jack to appear for short segments, more often. That's the way radio sounded "back in the day", and it would nice to hear a "tracked" show replicate that. In a "tracked" presentation, the personality doesn't sit through the songs and spots (like in the old days), instead, they hear the beginning and end of the records where they're supposed to talk. An hour can be recorded in a few minutes using this technique. If three songs are played with jingles or promos in-between, the jock never hears them - they just move on to the next place where they talk.
Very nice music selection and there are a lot of drop-ins, gags and wacky voices here. Jack, a student and fan of the great Jack Gale, was working close to his roots in more ways than one.