TOP STREAM 20.7Kbps (14.5KHz)


Paul Drew WAKE Atlanta GA. August 1961 (12:49)
. . . the star of WAKE Weekend - Million Dollar Music! . . .
[Description by Uncle Ricky]
Paul Drew grew up in Detroit. His first radio gig was at Wayne State University in 1953. He moved to Atlanta in 1957 to work at WGST. By 1961, Mr. and Mrs. Bill Drake had moved into his apartment complex. In a 1977 interview with Radio and Records, Drew described how he left his job at WGST to work at WAKE: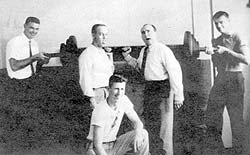 Bill Drake

(top left) and

Paul Drew

(2nd from right) are shown at the YMCA (with three unidentified WAKE Hitparaders) for the WAKE Olympics promotion.

"So Bill and I, one morning, just the two of us in my apartment over probably the best cup of coffee I think either one of us have ever had, something in the water and something in the coffee that day, and we talked about it, and then I went to work at WAKE... The list was 40 records plus each jock had a pick hit. We didn't get to pick our own pick hit, that was picked for us."

Soon after, owner Bartell sold WAKE. Program Director Drake moved to sister station KYA in San Francisco. Drew remained at WAKE, but in 1963, he moved to WQXI/Atlanta where he eventually became Program Director. Drake's deal with RKO encouraged Drew to return to his hometown of Detroit as PD at CKLW in July, 1967.


Paul Drew, 1977
Drew was later the Vice-President of Programming for RKO Radio. In the years that followed, he was associated with numerous radio professionals, and Repository contributors, like John Long and Les Garland.
WAKE is obviously an important part of the story of Top 40 radio. Except for the efforts and generosity of contributor Paul Allen, this exhibit might not exist, in fact, this may well be the only recording of Paul Drew on WAKE, just as we believe Paul's recording of Bill Drake is one-of-a-kind.
This aircheck's fidelity is exceptionally good for the vintage. I was also impressed by the precision of the format - like the KYA programmed by Drake, WAKE was relatively uncluttered. The pre-recorded production elements dominate, (there's a singular classic jingle, too) and the weather (even the temperature alone!) requires the filter effect. But Drew sticks to the basics and his delivery is natural and relaxed. This was probably some of the most progressive Top 40 in the U.S., circa 1961.
Paul Drew died of natural causes on May 16, 2013. He was 78.