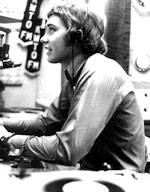 Les Garland at KWTO (560Khz, 5KW), Springfield, Missouri, 1969. Les says, "it felt BIG at the time - we took it rock. It was actually my first programming job."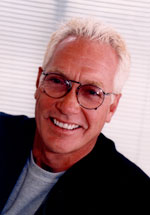 Les Garland, today.

Les Garland's success as a business executive has always been fueled by his love for music. After beginning his career as a radio and television personality, he went on to become one of the most influential radio programmers of the 70's, exerting even more influence on the 80's as one of the co-founder/originators of both MTV: Music Television and VH-1 where he served as MTV Network's Senior Executive VP. In the 90's, Garland played an essential role in the Domestic and International rollout of the interactive music channel, The Box. From there, he went on to found sputnik7.com as its President. The site was awarded the "Invision Award of Excellence in Entertainment", a "Gold Invision for Best Entertainment Streaming Media Site", the ASCAP "Deems Taylor Award" and was a 2000 Webby Award nominee.
Recognized as one of America's top radio programming executives, Garland was instrumental in merging radio's freeform FM sound with contemporary music formats that led to consecutive Radio Station of the year and Programmer of the Year awards at RKO Radio's KFRC San Francisco. CKLW/Detroit, WRKO/Boston and K-100/Los Angeles were among the radio stations programmed by Garland in the prime years of contemporary music radio.
A Clio-award recipient, Garland is continuing to define his career by remaining on the front edge of popular mass entertainment through projects under his consulting company, AfterPlay Entertainment. Clients have included Cisneros Television, DreamWorks, MCA, AOL Latin America, Enigma Digital (acquired by Clear Channel in 2000), College Television Network (acquired in 2003 by MTV Networks), the Dick Clark Company and RMS Networks, which designs and delivers point-of-sale television entertainment to over 4000 distribution points, including J.C. Penny, Sports Authority and AutoNations locations. AfterPlay recently acquired the rights to represent the theatrical, television, and home video release of the film, 'Tribute,' a rock-umentary executive produced by Steven Soderbergh and is also consulting for GK Intelligent Systems, developer of an evolutionary educational software application based on artificial intelligence.
Garland launched and co-managed Bad Boy/Arista pop act Dream, taking the group to double-platinum sales success and securing various endorsement deals for companies including DKNY, AOL and Twix. As of March, 2003, current recording artists under his management include U.K.-based rock band White and Samantha Cole, and he has recently begun working with the Ides of March and Jim Peterik, the band's lead singer and Grammy Award-winning songwriter well-known for writing "Eye of the Tiger" and other top-ten songs.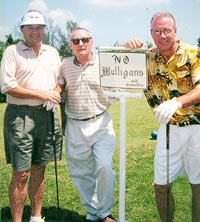 Hall of Fame Golfer Raymond Floyd, Actor Dennis Hopper and Les Garland, at a club on Miami Beach.
As a result of his role in the music industry, from radio, music television, and new media, Garland is frequently sought out for speaking engagements. He is a frequent participant at college symposia and was invited to be a founding member of The Academy of Digital Music Arts and Sciences.
Garland's passion for music is equaled by his passion for golf. "He was into golf way before golf was cool", says PGA Tour Pro Tommy Armour III. Following his years at MTV, Garland briefly caddied on the PGA Pro circuit for Mr. Armour. "Some guys buy sailboats and sail around the planet", said Garland. "I looped a golf bag and went in search of 'The Secret'"!
A 7.0 handicap, Garland was appointed by the City of Miami Beach to the commission overseeing the renovation of Miami Beach's only two public golf courses, the Miami Beach Golf Club and Normandy Shores. An active member of the Miami Beach community, Garland was an owner/founder along with Sylvester Stallone, Gianni Versace and Chris Blackwell in BARNONE, once named one of the country's hottest nightspots.
As of May 2004, Les has teamed up with Michael Solomon, entertainment industry veteran and founder of Telepictures, to develop The Tube Music Network.
The Repository thanks Les Garland for sharing!