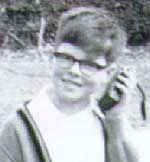 Michael Hagerty, Age 8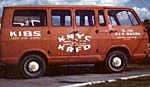 KIBS (Bishop, CA.) shared a van with sister combo KMYC/KRFD in Marysville/Yuba City (hundreds of miles north of Bishop)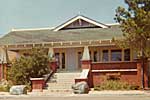 The KSLY, San Luis Obispo studio building in 1974, originally the main house of a 20-acre ranch just south of downtown. Texan Homer Odom owned the station, and kept the tack room and horses. Jocks could saddle up for a ride in the foothills after their shifts.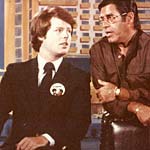 Michael and Jerry Lewis doing a taping for Hagerty's first TV gig - Reno cut-ins for the MDA telethon.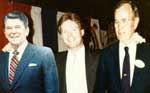 President Ronald Reagan and VP George Bush shown with a full-size cardboard cut-out of Michael Hagerty (1988 Convention)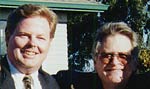 Michael Hagerty and Bobby Ocean after lunch in San Rafael, November 1998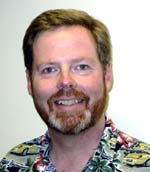 Michael Hagerty, 2002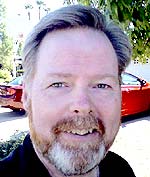 Michael Hagerty, TireKicker! 2008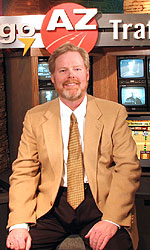 Michael Hagerty, 2009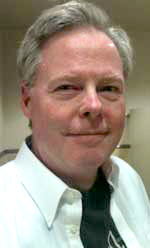 Michael Hagerty, 2014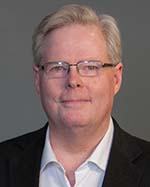 Michael Hagerty, 2017

Michael Hagerty is a first-year contributor to the Repository. His Collection debuted on June 2, 1996.

I was born in Los Angeles, a city with only one radio station. At least, as far as my parents were concerned. In the house, in the car, it was always KMPC. I liked the Angel baseball games and I idolized Captain Max Schumacher, their number one helicopter traffic guy. All that took a backseat one day in 1964 when I tuned in on my $2.99 transistor radio, found the Angel game was rained out, and heard Gary Owens, who'd recently replaced Johnny Grant in afternoons. At age 8, I wanted to be that funny guy with the deep voice on the radio.
When my dad died a year later, we moved 270 miles north to Bishop, California, a town with only one radio station. KIBS wasn't KMPC. Country music in the morning, a women's show called "Coffee With Virginia" for an hour at 9, Radio Bingo for an hour at 10, MOR the rest of the day and Top 40 at night. Signoff was at 10PM.
Soon I discovered that, in the wintertime, half an hour before sunset (and the pattern change), I could pick up Gary Owens on KMPC. I started dialing around... between dusk and dawn, there were all these amazing radio stations that my little "pocket radio" could pull in... I could hear Lohman and Barkley on KFI before school part of the year... and KFRC, San Francisco; KHJ, KRLA and KDAY, Los Angeles; KCBQ, San Diego... and at night... when I was supposed to be asleep... the transistor tucked inside the pillowcase, directly under my ear... I "mainlined" the corrupting influence of Wolfman Jack on XERB.
Still later, I found that if you put a radio really close to the cable for the TV, you could hear L.A. FM stations (though the closest to Top 40 on that band in those days was "HitParade '69" on KHJ-FM).
Small wonder that when a substitute teacher (Virginia of "Coffee With Virginia") asked me if I'd like a job at the radio station in 1971, I jumped at the chance. I was 15. My mom had to drive me to L.A. to take the FCC license exam. I rode my bike to work after school. Mom drove me home at 10pm... the bike in the trunk of her car.
During the next ten years I branched out to programming at KIBS and KSLY, San Luis Obispo (where I was music director) and, exposed to the example of Bobby Rich's KFMB-AM, San Diego, brought Top 40 pacing and production values to Adult Contemporary stations (KIOQ, Bishop; KUKI, Ukiah; KOLO, Reno).
I made the move to television news in 1981, just as A/C was devolving into "Continuous Soft Hits". But even a wonderful career in TV in Reno, Las Vegas and Phoenix couldn't lure me completely away from radio. The bug bit again in 1993, when I filled in for 10 weeks of Pat Powers' maternity leave on Sunny 97 and was teamed with Danny Davis (KIMN, Denver, KRIZ, Phoenix, KISN, Portland).
In '97, Sunny 97 had become Eagle 96.9 and Charlie Van Dyke asked me to be his partner for a new full-service morning show. Two months after we started, the station sold. And in '98, the local "Jammin' Oldies" station invited me to do one evening as part of a promotion featuring local TV news folks.
After all that, is it any wonder I found my way behind a microphone again? This time, at a truly great radio station, NewsRadio 620 KTAR, Phoenix, where I did weekend afternoons and fill-ins from 2000-2004.
In 2002, I was involved in the launch of a new independent television station in Phoenix as the producer and host of a weekly half-hour program about my second love — cars.
In October, 2003, they made me Director of Programming and Promotion. After two years of seven-day weeks and new responsibilities added to that, something had to give — namely, a regular radio show.
In August, 2008, I left and launched my own online venture about cars: TireKicker.blogspot.com. And from January, 2009 until May, 2011 I was the morning traffic anchor and reporter for ABC15 in Phoenix — taking me full circle. Remember, my first radio idol was KMPC's Captain Max Schumacher.
In 2012, I returned to radio, doing traffic reports for Total Traffic Network in Phoenix, Tucson, Las Vegas, Albuquerque, El Paso and Salt Lake City. In 2013, I transferred to TTN's 24/7 News service as a writer on the National Desk, and two weeks later was promoted to news anchor for 24 markets (including New York, Chicago, Philadelphia and Washington, D.C.) on Clear Channel's iHeartRadio app. All three of those jobs (traffic, National Desk and iHeartRadio) were in the same big newsroom at Clear Channel's Phoenix hub.
In November of 2013, I returned home to California, 36 years to the day I left — continuing to anchor for iHeartRadio in the same markets and adding overnight weekend newscasts for KOMO, Seattle from the studios of KFBK, Sacramento.
In February of 2014, I was asked to make another move (in the same building) and become Editor of The KFBK Morning News. A few months later, I became Assistant News Director, and then Managing Editor.
In October of 2016, I received the biggest honor of a 45-year-and-counting career---I joined The Afternoon News with Kitty O'Neill as co-anchor and was promoted to News Director of KFBK.
KFBK is a heritage radio station with a monster 50,000 watt signal at 1530 AM pumped through the only true Franklin antenna system in the United States — giving us the highest field strength of any U.S. station, and a groundwave that makes us resistant to skywave fade (I used to listen on the drive home from Clear Channel Phoenix on fall and winter nights — a distance of more than 700 miles). It has been serving Northern California (and most of Western America) since 1922. We're also on FM at 93.1, and on the iHeartRadio app for long-distance listening.
I am just as proud of my association with REELRADIO, and I tell anyone who'll listen just what Uncle Ricky and dozens of Reelpals have built---the finest museum of 20th century pop music radio imaginable.