TOP STREAM 32Kbps (10Khz)

This Exhibit 'SCOPED (17:36)
| | |
| --- | --- |
| UNSCOPED | 'SCOPED |
. . . I want to watch it, but I have a headache . . .

[Description by Contributor Michael Hagerty]

Geoff Edwards is approaching his 11th anniversary doing 9AM to Noon on this November 13, 1978 aircheck from KMPC. There won't be a 12th anniversary show. A year and a half after this aircheck, Geoff and Noon-3PM talent Wink Martindale would both be out, replaced by a 10AM-2PM talk show. Robert W. Morgan and Gary Owens would go to four-hour shifts in mornings and afternoons. Edwards went on to host a number of TV game shows, including The Big Spin, the California Lottery show. He died on March 5, 2014 at the age of 83, making him a youthful-sounding 47 at the time of this aircheck.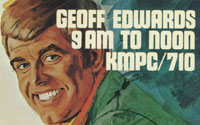 Geoff Edwards on KMPC
Like a lot of former MOR stations in 1978, KMPC had modernized their music, but kept the news, weather, sports, traffic and 18-minute commercial load. Old fans fled for beautiful music stations like KBIG and KJOI, while younger listeners, raised on much more music, didn't care that Geoff was playing Linda Ronstadt, Marvin Gaye and Chicago.

COMMENTS ABOUT GEOFF EDWARDS, KMPC NOVEMBER 13, 1978