TOP STREAM 32Kbps (10KHz)

Pat Hughes, WQXI Atlanta, August 31, 1963 (restored) (53:14)

This Exhibit 'SCOPED (20:59)
. . . Don't you become a sastistic . . .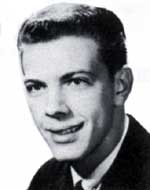 Pat Aloysius Hughes
(courtesy of Sam Hale)
[Description by Uncle Ricky]
This is most of the 5PM hour of the Pat Aloysius Hughes show on Atlanta's WQXI from Labor Day Weekend, Saturday August 31, 1963. Pat passed away in 1969.
Quixie Quick As A Wink news headlines presented by one-name newsman Brannigan was edited to only the intro and closing, but Brannigan returns at the end of the hour for a complete newscast.
Your Number's Up is the current contest, with a wide variety of ways to win. And, for less than $200, the Muntz folks will bring a new 23-inch color TV to your home, take away your old TV, and give you a free portable transistor radio! Presumably, the radio was such a draw for kids that it's necessary to remind listeners that the offer is for "Adults, ONLY, please..."