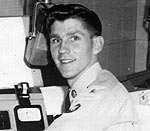 Broadcast Specialist Sam Hale with AFRTS 1957-1958, KANU—ASMARA. Sam has the distinction of having done the first regularly scheduled live newscast from an U.S. Army operated TV station.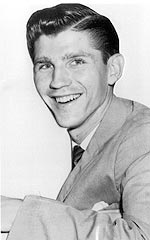 Sam Hale, WKDA 1959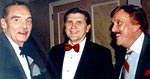 "A Night For The Hossman" - Hoss Allen, Sam Hale and Hugh Jarrett ("The Big Hugh Baby"), Centennial Ballroom, Lowe's Vanderbilt Plaza, Nashville, May 7, 1992.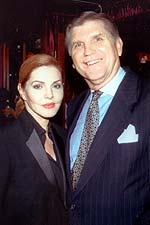 Sam was a recent guest of Priscilla Presley and Graceland for an anniversary program. Photo (C) Sam Hale, 2004.

Like so many others whose air checks and comments reside here in the REELRADIO archives, Sam Hale was fascinated with radio from his earliest years. His winning various public speaking contests, and the publicity of having been elected Governor of the TN 4-H Club Congress, led to his first paying gig, "Letters to Santa". He recalls taping this show on the Magnecord recorder with the speed slowed by adding electrical tape to one of its capstans to deepen the sound of his young voice. This led to his getting to cover for the entire air-staff on Christmas day; the only person in the station December 25, 1954 - 5:00 AM 'til signoff at midnight! The station, WMMT, McMinnville, TN, was a Mutual affiliate and the only station in town at the time. However, he recalls its having had several excellent announcers, including Chris Lane (Country DJ Hall of Fame), who, thanks to Eddie Arnold, began his long and very successful commercial career in this small town. Without intervening contact for 15 years Sam would later work with Chris when he returned to Bartell in Milwaukee, before Chris went to KYA. He and the terrific Terrell Metheny (Mitch Michael) were also reunited at WOKY. They had first worked together at WKDA.
A second station (WBMC) went on the air May 1, 1955 and "Sammy" became a member of the original announcing staff. He managed a full time radio shift while not allowing his grades to suffer and graduated Valedictorian of his class. During this year he shared an apartment with a fellow announcer, Ed Philllips, who later would be known as Mel Kent (WYDE), Johnny Holiday (KCBQ), Johnny Mitchell (KHJ) and Sebastian Stone (KFRC and WOR-FM). Years later, Ed would phone Sam (WKDA) when Bartell was transferring him from WYDE to KCBQ and suggest he take the spot he was leaving in Birmingham. That was Sam's introduction to Bartell. It also resulted in his meeting his wife of 53 years! At WYDE he was privileged to work with Jay Cook (WFIL, Gannett President) and Jim Staggs (WCFL, WMAQ) and others. His, and Birmingham's favorite, Joe Carl, died of lung cancer in this brief window of time. Joe was only 21!
Following discharge from the Army, where he served as a Broadcast Specialist, Sam resumed his radio career at WYDE, WADO, WJJD, WDGY, WOKY and WQXI. Air shifts were generally only three to four hours a day; then an hour, or so of production work. This permitted him to pursue his newly developed interest in the study of the stock market. He left broadcasting for those greater financial prospects in 1966.
After a successful career as a Chartered Market Technician and affiliate of the New York Society of Security Analysts, Sam retired in 2003. In the intervening years he has continued to do limited voice over and commercial work. Now he is having thoughts of doing radio again - just for the fun of it! He says, "I've nurtured friendships with many in the music industry through all these years and would enjoy doing a show with those records I helped make hits - 1954-1966". You'd likely say — "Dream on! Do you know what's happened to radio?"
Sam Hale passed away at the age of 78, after a lengthy illness in early August, 2015.