TOP STREAM 32Kbps (10Khz)
. . . When you notice that your kids are spending more time at the neighbors than they are spending at home, maybe it's time you asked yourself, 'Am I ready for color television?' . . .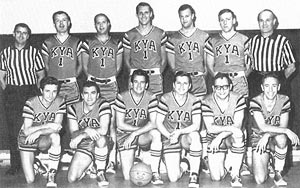 The 1967 KYA Radio Oneders, (front row, l to r) Sean O'Callaghan, Tom Sgro, Bud O'Shea, Johnny Holliday, Ed Hider, Don Delbon; (back row) Owen Kashveroff, Jim Myers, Norman Goldsmith, Rick Barry, Don Novitsy, Phill Prusky and Mike Orlich. Record for the 1967 Oneders: 59 and 1! The debut of this exhibit on Sunday, October 21, 2007 celebrates a 40th anniversary presentation of Johnny Holliday on San Francisco's KYA. Here's 83 minutes of Johnny and KYA from Saturday, October 21, 1967.
Johnny and the KYA Oneders are underway with their best season ever and The Righteous Brothers are appearing at the Oakland Coliseum, presented by KYA, of course. The jingles are the Draper/Blore series that some will remember from WCFL/Chicago, in use at about the same time. And who would ever believe a sale on monaural records? Also included: a very serious news presentation from Lamar Sherlock.
The picture of the 1967 Oneders is from Johnny's book, "From Rock To Jock". Thanks to Johnny and The Bay Area Radio Museum for this "Onederful" recording!