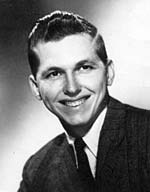 Johnny Holliday, WHK Cleveland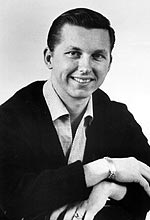 Johnny Holliday, WINS New York, 1964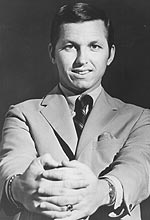 Johnny Holliday at KYA, San Francisco, 1966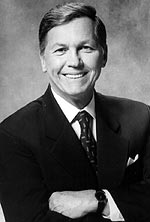 Johnny Holliday, today


Johnny Holliday was born in Miami Florida, but his tour in Top 40 began in 1959 at one of the first big-time Top 40 stations: WHK in Cleveland.

Johnny joined WINS, New York, in 1964, and played the last record on WINS before the switch to All News. He was named Gavin Top 40 DJ of the Year in 1965 while at KYA, San Francisco, where he stayed until 1969. Johnny is featured in the Rock and Roll Hall of Fame in Cleveland.

Holliday has spent over 35 years in Washington D.C., beginning with morning drive for WWDC from 1969 to 1978, and sports reporting for WMAL from 1978 to 1991.

He began working for ABC Sports in 1984, and his sports reports are heard coast to coast on the ABC Radio Network, including shows on XM and Sirius satellite radio.

His credits include coverage of the Olympics in 1984, 1988, 1994, 1996 and 2000, championship boxing, The Masters, the USFL Game of the Week and the Liberty, Aloha, Orange, Peach and Gator Bowls. Since 1979, Johnny has been the voice of the University of Maryland Terrapins football and basketball teams.

Off the air, Johnny has been featured in more than 30 leading roles in summer stock production, among them 42nd Street, How To Succeed In Business, Finian's Rainbow, Follies, Carnival, and Me And My Girl, which brought him a Helen Hayes nomination for Best Actor in a Washington Musical.

Johnny's network announcing credits include NBC's Hullabaloo and The Roger Miller Show, ABC's This Week with David Brinkley and This Week with Sam Donaldson and Cokie Roberts. He was also seen on the CBS-TV comedy series Good Morning World, and is co-host of the nationally syndicated Catholic Radio Weekly.

Johnny's book is titled From Rock to Jock and it's a memoir of Johhny's amazing broadcast career as a Top 40 Disc Jockey and a nationally known sportscaster.

In October, 2003, Johnny Holliday was inducted into the Radio Television Broadcasters Hall Of Fame.

The Repository thanks Johnny Holliday for sharing!