TOP STREAM 32Kbps (10Khz)
. . . I got a brand new shiny Buick Riveria, and I got more cash . . .
The debut of this exhibit on Sunday, December 9, 2007 celebrates our second 2007 40th anniversary presentation of Johnny Holliday on San Francisco's KYA.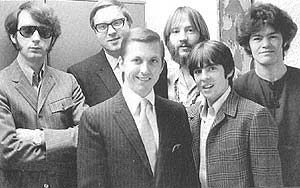 KYA Jocks with The Monkees, (front row, l to r) Johnny Holliday and Davy Jones,
(back row, l to r) Mike Nesmith, Chris Edwards, Peter Tork and Micky Dolenz. The Monkees had two hits in the Top 30 of 1967. Here's the Top 30 of 1967 as presented on a Million Dollar Weekend, December 9, 1967. The countdown is nearly intact, but there are also a few Name It And Claim It and extra surprises.
Again, we hear the Draper-Blore thematic stagings and jingles used by Chicago's WCFL. Lamar Sherlock is featured with a newscast reporting the final voyage of the Queen Mary ocean liner and the marriage of Lynda Bird Johnson to Charles Robb (later, the Governor of Virginia.)
The picture of Johnny, fellow DJ Chris Edwards and The Monkees is from Johnny's book, "From Rock To Jock". Thanks to Johnny and The Bay Area Radio Museum for this aircheck of the Top 30 of 1967!

[Portions of the recording have been edited, and there are small speed inconsistencies.]