CKUA has proven itself an indestructible public radio station that has been heard throughout the Canadian province of Alberta for most of its history. First, with a great low frequency AM groundwave on 580 KHz, and then, beginning in the mid-1970s, with 16 simulcast satellite-fed stereo FM transmitters across the province.
CKUA began in 1922 as Edmonton Radio Supply owners' Jim Taylor and Hugh Pearson put Edmonton's second radio station on the air. Then known as CFCK, with 50 watts on a shared frequency, it grew to become Selkirk Broadcasting, one of Canada's most influential radio owners until it was sold to Maclean Hunter in 1989. But in 1927, Taylor and Pearson sold CFCK to the University of Alberta for $600, and the call letters were changed to CKUA, with the "UA" for University of Alberta. A new 500 watt transmitter was fired up on November 21st and CKUA was on the air, sharing its 580 KHz frequency with three other Edmonton stations.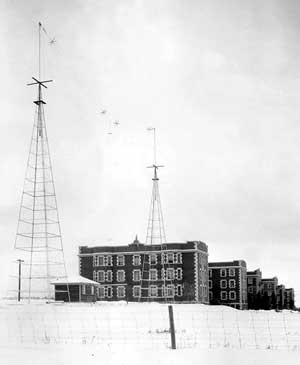 CKUA Transmitter, 1927
Within five years, CKUA's existence was already being threatened. Not by the Great Depression, but by a British Privy Council decision that Radio is a federal responsibility in Canada. Although a planned BBC style government radio monopoly never became a reality, radio ownership by "other levels of government" was disallowed. But CKUA somehow survived, first by its operations being moved to Alberta's government-owned telephone company on May 1, 1945, and then, on March 31, 1974, to a special Alberta government entity created to meet changing federal regulations.
In 1987, the Alberta government wanted to get out of anything that looked like Business, including Broadcasting, first trying to sell CKUA, then setting it adrift to fend for itself in 1994. And CKUA survived again, despite being taken off the air on March 21, 1997, by its Board of Directors. A new Board was formed after a very large outpouring of public support and donations, and CKUA was back on the air in five weeks. And hasn't looked back since.
The CKUA Style heard here may remind you of the FM Underground format of the late 1960s, but the station actually invented it themselves in 1964, well before the San Francisco Sound, thanks to the collaboration of two CKUA announcers, the late John Runge and the retired Bill Coull. John later left CKUA for a time, to help launch Canada's first FM Underground station, CKLG-FM in Vancouver, on March 16, 1968.