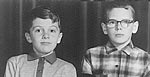 Jon Pearkins (left), 9, and best friend,

Randy Raine-Reusch

(right), now World Music guru, Coquitlam, B.C., 1962.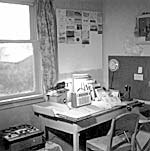 First listening post, Burnaby, B.C., 1966.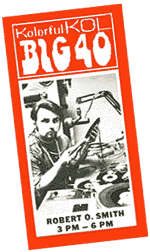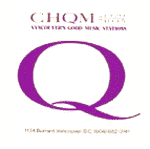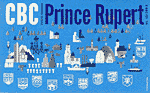 CFPR Prince Rupert 1968 QSL Card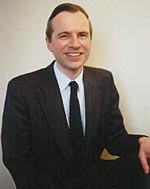 Jon Pearkins, publicity shot, Edmonton, Alberta, 1995.

Jon Pearkins grew up in greater Vancouver on Canada's West Coast. Radio was a huge part of his life for 13 years, first as a Top 40 listener, then a DXer and finally a DJ. Unless otherwise indicated, the airchecks heard here were recorded by Jon, but since he never collected and traded airchecks, they are exclusive to REELRADIO.
Over the years, beginning February 9, 1962, his favorite stations have been CFUN Vancouver, KJR Seattle, CKLG Vancouver, WBZ Boston, WLS Chicago, KYMN Oregon City, TGJ Guatemala, KOL Seattle, CJOR Vancouver, KGA Spokane, CKLG-FM Vancouver, CKVN Vancouver, KTAC Tacoma, CKRA-FM (K-Lite) Edmonton, CBX-FM Edmonton and CKUA Edmonton.
For more than 30 years, his favorite DJ was the late Robert O. Smith, known best for his 1966 hit record "Walter Wart, the Freaky Frog", which can still be heard regularly on Dr. Demento's syndicated program.
From 1968 to 1971, Robert O. did afternoon drive on KOL Seattle. Jon remembers, "Listening to Robert O. really taught me by example what I needed to know about working in radio. Here was a guy without a big ego who could react, second by second, to what he was saying just as a listener would."
Jon started out in 1969 at 5 watt pirate station CFAY in Surrey (as George Walker). His next stop was Simon Fraser University's CKSF (now CJSF), then UBC's carrier current CYVR (now CiTR).
His big break came in June 1971, when CHQM AM & FM hired him as an operator. After nearly a year at QM while going to university, a friend got him a summer job announcing at CJAT AM & FM in Trail, B.C. CJAT-AM was a well-run Top 40 station that even charted songs no one else played, but Jon was stuck in the lackluster FM station most of the time. That only lasted six weeks, and he spent the rest of the summer on the air at CFPR in Prince Rupert, managed by a rising star from CBC Toronto. His final radio job was part-time at CFYK in Yellowknife in Canada's Northwest Territories in late 1974.
Since then, Jon has been in computing in Edmonton, but hopes to retire soon and get involved in radio again. "After reading that famous Billboard article about starting in radio at 18 in Fresno for $600/month and ending up back in Fresno at 30 for $850, I was too scared to think of radio as a career. Even though my best friend thought I would never come back from CBC Prince Rupert in 1972, the idea never entered my mind to do anything other than go back to UBC for third year Computer Science."
The Repository thanks Jon for sharing!