July 4, 1990 marked the return of ShowPro to the California State Fairgrounds, and Producer Don Early worked for months to cobble together a UHF-TV station and an AM/FM station to sponsor another large and expensive July 4th Pyromusical at Cal Expo.
The California Vietnam Veterans Memorial had been dedicated on Veterans Day in 1989, and Don wanted to include California Deputy State Treasurer B.T. Collins, who had worked to build the memorial, in the 1990 July 4th show.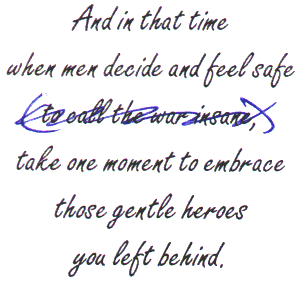 B.T., a Veteran of the Vietnam war who had lost an arm and a leg in the Vietnam war, came into the studio, and we handed him a script for the opening, and the poem included in the Veteran's memorial. He read the opening script, but insisted on changing the poem. He marked out the line to call the war insane, and told me, "I didn't want that line at the memorial, and I don't want it here."
Because KAER-FM was a soft AC, and KFBK was a white-shirt news-talk station, this was probably the "straightest" July 4th show we ever produced. We didn't know we would be in Los Alamitos the next year, but the lack of budget for promotion and the half-hearted support of the radio stations was disheartening. Attendance was significantly below what we had achieved in the early 1980s, and the Racing Association was experiencing low attendance for their regular harness racing programs.