THIS PROGRAM WAS AVAILABLE VIA LIVE STREAMING ON JULY 4, 1998, ONLY.



Happy Birthday, America
by Richard W. Irwin

The July 4th Pyromusical Spectacular Marathon features ten custom radio soundtracks that were choreographed with fireworks, and sometimes, laser and lighting effects. The marathon includes all July 4th programs produced by Don Early and written and directed by me, Richard W. Irwin, (aka Uncle Ricky) from 1982 through 1992. Nearly all of the music selection and production was the work of the very talented Dennis Newhall. Time prohibits listing live entertainment, and all the talented techs, composers and artists who were involved in the live show or production of the taped show. The fireworks and effects budgets for these shows were LARGE. These programs were played for the public only ONCE - until now.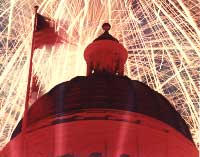 Although KROY in Sacramento had been sponsoring small "Oooh-Ahhh" plain-jane fireworks shows on July 4th since 1972, the California Capitol Restoration Gala Pyromusical Spectacular in January, 1982 was the template for the July 4th Pyromusicals that followed. Produced by a world-class California pyrotechnics company (PyroSpectaculars) it starred a newly renovated Capitol building, and included lasers, lights, and over $100,000 in fireworks. It was a huge promotional opportunity for 1240 KROY and 97 KROY-FM, and an up-front real-life learning experience for me.
A few weeks after the Gala, Dick Feinberg of Golden Bear Raceway asked KROY to produce a "similar" show for the July 4th harness races at the State Fairgrounds racing facility (Cal Expo Grandstand). We explained to Mr. Feinberg that it would be expensive. He said he knew that. It turned out to be an investment with a good return. Fireworks drew lots of people to bet on the horses; the more betting, the bigger the "handle" for the racing promoters.
The Show, presented as "Pryomusical Spectaculars", continued after Dick and his employer had ceased operations at the State racetrack and after KROY had died three times: once as KROY-AM (to KENZ, then KSAC-AM), once as KROY-FM (to KSAC-FM), reborn from KSAC-FM as KROY-FM and finally laid to rest as KSEG. The show followed Feinberg to Los Alamitos Racetrack (near Disneyland) in 1991, and was also sponsored, at one time or place, by KSAC FM or AM, FM-102, KFBK, Y-92, KHYL-101, KEZY-FM (Anaheim), Channel 40 TV, Channel 31 TV, and The Sacramento UNION (once the West's Oldest Daily, now the Oldest Out-Of-Business Newspaper in the West).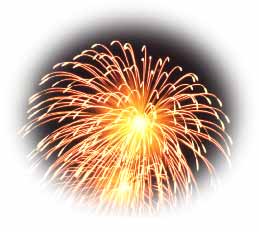 Over the years, for each of these programs, we tried to incorporate format-compatible music of the sponsoring radio station, but otherwise, these shows feature all kinds of music, including original synthesizer performances. We wrapped it all in lofty verbage, and "Ladies and Gentlemen" type narration, and when the sun went down, our curtain came up. All of our July 4th pyromusicals end with a proud pronouncement of patriotism: The Stars and Stripes Forever.
The marathon will begin with the 1982 show and end with the 1992 show. (The 1989 show is not included.) All events, with the exception of the 1991 show (presented at Los Alamitos Raceway in Orange County, California), were held at The Cal Expo Grandstand at the California State Fairgrounds in Sacramento, California, and simulcast on the sponsoring radio station. You'll hear the "Program" track of the actual performance masters. The other track (or tracks) contained voice cues for pyrotechnicians. You are welcome to imagine the colors, explosions, blasts of light and laughter, the applause and hurrahs, the guys who cut an opening in the chain-link fence so uncounted thousands could enjoy the lasers for free, the thousands of impossibly trapped motorists on the freeway and in the parking lots, the intoxicating flush of adrenalin that accompanied every perfect match of pyro with music, the feeling of watching several months' effort unfold in real time and thousands of people screaming their approval. It was all of that, and much more. The production of these strange "radio shows for fireworks" were a passion of your Repository curator, for ten wonderful Independence Days.
Happy Birthday, America! It's almost showtime...



LIVE BROADCAST BEGINS 4PM PACIFIC (7PM EASTERN) JULY 4TH 1998

| | |
| --- | --- |
| Streams in G2 28.8 format (20.7 kbps - Real Media G2 Player required) | Streams in Real Audio 28.8 format (16.9 kbps - Real Audio Player required) |

PRESENTED BY


The REELRADIO July 4th Pyromusical Spectacular Marathon is presented in memory of Don Early (1937 - 1997),
the founder of "ShowPro" (Showtime Production Services), who produced all ten of these Independence Day events.
P R O G R A M S C H E D U L E
ALL TIMES APPROXIMATE