OUR BEST SHOW YET!
Golden State Racing Association proudly presents the KROY July 4th Pyromusical Spectacular, this year featuring Fireworks by Grucci, winners of the Monte Carlo International Fireworks Competition, and a special laser performance by Laser Media, Inc. Come early for the best seating—see this show from the grandstand at Cal Expo. Racing begins at 3 p.m., fireworks and lasers at dark. General admission $3; 12 and under or 62 and over free!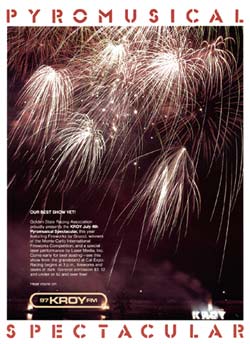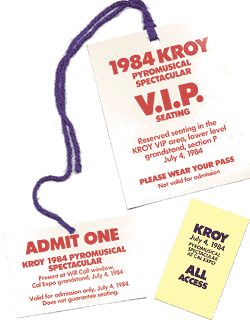 [Description by Uncle Ricky]
A Celebration of American Freedom, the 1984 KROY Pyromusical Spectacular at the California State Exposition and Fairgrounds, featured three themed segments:
1984 - THE YEAR OF BIG BROTHER (lasers, synthesizers and techno-pop)
THE TRADITION OF AMERICAN FREEDOM (patriotic, space and movie theme segment)
1984 - AS IT REALLY IS! (olympics, sky songs and grand finale)
Bobby Ocean was listed as the official Narrator, and appears in the final segment (beginning at 23:30). The Olympics were held in Los Angeles in the summer of 1984, and this segment pays tribute to that International event.
In addition to Bobby, performers included Richard W. Irwin as Big Brother, Traffic Manager Marilyn Curry as a Political Dissident, and Music Mixmaster Dennis Newhall as Patrick Henry. And of course, Dennis did all the music mixes with turntables, reel decks and razor blades.
KROY and Fourth Of July fireworks shows go back to the '60's, when smaller, hand-fired shows were presented elsewhere. The electrically-fired "Pyromusicals" didn't begin until 1982. That was the last year for 1240 KROY, which became 1240 KENZ by 1983. The 1984 show was believed to be the 12th consecutive year that KROY (AM or FM) presented a July 4th show at Cal Expo. By July 4th, 1985, KROY-FM had become KSAC-FM. However, KROY-FM returned to Sacramento and a KROY-FM July 4th Show returned to Cal Expo one last time in 1987.