COME SEE THE WORKS!
KSAC and Cal Expo Racing Association present The July 4th Pyromusical Spectacular. This is northern California's biggest Indpendence Day celebration — featuring a world class fireworks display synchronized to music. You'll see an absolutely incredible variety of the most exciting pyrotechnics ever, including special effects visible only from the Cal Expo Grandstand. A full day of harness racing precedes the sky show — Post time is 3 p.m. All day admisssion just $2, with children 12 and under, and seniors 62 and over admitted free! Come early for best seating.
See this show from the grandstand at Cal Expo, Thursday, July 4th!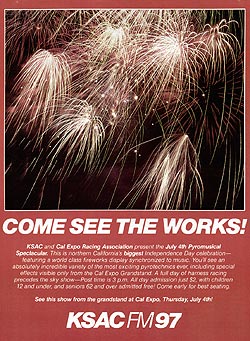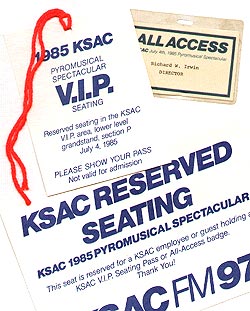 [Description by Uncle Ricky]

CREDITS


Sky Sorceress: Tara O'Leary
Narrator: Zack Boles
Old Prospector: Richard W. Irwin

Produced at
Heavenly Recording Studios, Sacramento
Original Sky Sorceress Music
by Ray Elzey.
John Baccigalupi,
Chief Recording Engineer.
Dennis Newhall,
Music Editor.


INTRODUCTION

"Tonight, we present a celebration of American Freedom! Our Salute to Sacramento is a tribute to the rich history of the River City. Our Pyromusical combines narration, music and fireworks - choreographed and synchronized electronically.

We've put them all together to tell a story. It's a story of courage, determination and victory ... a true story of American freedom.

The settlement that became Sacramento celebrated July 4th for the first time in 1847. Tonight, KSAC dedicates its first July 4th Pyromusical to the Sacramento of today, and to the people that make it such a great place to live!"

BACKGROUND

This is a copy of the 1985 "Mix Master", before the commercial and closing announcements were added.

It was encoded from the original 15IPS two-track stereo master (stored tails-out with paper leader!) and the fidelity is exceptional.

Of particular interest is the opening "Sky Sorceress" music, written and performed just for this Pyromusical by talented Sacramento musician Ray Elzey.

This was the first and only July 4th show presented by KSAC 97 FM (formerly KROY-FM) and paid attendance was just under 30,000.