. . . If you have Mr. G over for the holidays, be sure to count your silverware afterwards . . .
[Description by Larry Ware]
On November 19, 1999, Harry Harrison celebrated 40 years of broadcasting in New York with this special live broadcast from the Museum of Radio and Television.
Marking this incredible milestone, Harry begins by reading a telegram he received in Peoria, IL from Steven Labunski, then general manager of New York's WMCA. The telegram, dated November 3, 1959, was sent to Harry confirming his position as a staff announcer at WMCA beginning on November 16, 1959. Harry then plays the one and only recording that exists from his Peoria days that helped him achieve that position.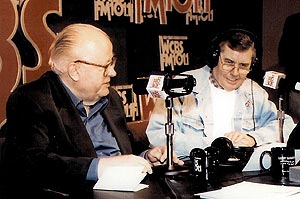 Steven Labunski, Harry Harrison,
November 19, 1999.
This is one of Harry's best airchecks with special appearances from radio colleagues such as Joe McCoy, Ed Baer, Don K. Reed, Dean Anthony, Gary Stevens, Ron Lundy, "Dandy" Dan Daniel, Dan Taylor, and even a surprise live appearance from Steven Labunski himself.
He also receives many greetings from recording artists like Tony Orlando, Frankie Vallie, Paul Anka, Neil Sedaka, and his own family members Michael, Patrick, Patti, and a special call from his wife "Pretty Patti".
This was truly a special broadcast for Harry, and an outstanding tribute to the life of New York's long-standing Morning Mayor. Harry says that this broadcast brought back many fond memories for him.
Al Vertucci, Harry's engineer at WCBS-FM, recorded this aircheck.
Harry Harrison: 40 Years in New York Radio,
WCBS-FM November 19, 1999