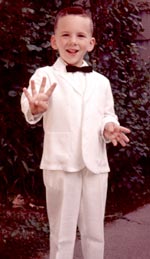 Larry Ware
signals his age.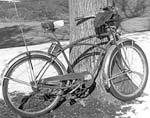 Larry's First
Radio Bicycle, 1973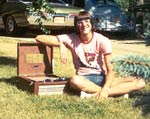 Larry in 1974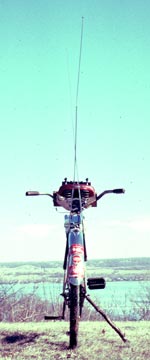 The Radio Bike, 1975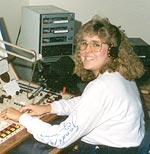 Hope Ware at WPEO, 1988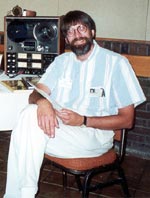 Larry Ware 2000, Airchecks ready!

Larry Ware writes that his Top-40 radio exposure began in 1961.
"At just four years old, my older sister gave me her pink Westinghouse radio to listen to. "Big Bad John" was playing on Peoria's own WIRL 1290 at that time and I listened all that day. I was hooked for life.
In high school, I woke up to Larry Lujack on WLS and awaited his amusing "Klunk Letter" every morning. During my sophomore year in high school, I borrowed the family reel-to-reel, an old tube 1956 Philco/VM, and began recording from WLS, WCFL, and WIRL from an old Majestic radio.
I really loved Top-40 radio in the early 70's and couldn't go anywhere without it. I installed a 1962 Ford car radio on my old Schwinn in high school. It was with this "radio bike" that I would occasionally ride to Grand View Drive (a drive overlooking the Illinois River valley) at night and listen to "Beaker Street" on KAAY.
I also made a portable car radio from an old record player cabinet to take to the parks with high school friends to play Frisbee. The radio would belt out WLS and Super CFL and fill the playing field with sound. I took this early "boom box" everywhere and made several versions of it.
In 1973 a friend, Dale Myers, gave me a sensitive 1959 Sherwood tuner. At one time I had logged 50 different AM rock stations received on the Sherwood tuner from Peoria. With this tuner I extended my taping range to New York for Chuck Leonard from 770 WABC and Wolfman Jack from 660 WNBC.
In 1983 I met my wife, Hope Holliday, at a local 2-year college where we were both studying for future careers in broadcasting. Hope later became the morning announcer on WPEO 1020 Christian Radio. I began working at WTVP-TV 47, Peoria's PBS television affiliate. I worked in Master Control and Traffic at WTVP until 1996. (Hope and I have both appeared on "Pledge Drives" at WTVP since then.) Until February 2002, I worked with The Iona Group in Morton, IL., where I managed the videotape library for Pioneer Hi-Bred, Inc.
I'm currently back at WTVP, part-time, and am working full-time for the City of Peoria as a Police Information Technician. My Hobbies include biking, hiking, backpacking, photography, piano, audio editing, and collecting vintage radios and television receivers, and broadcast history (both television and radio).
I discovered REELRADIO about 3 years ago while doing a search for "Larry Lujack" and was thrilled to be able to listen to Larry and scores of other DJs that I had never heard of before! What a great way to share what was the best format in radio ever! This is such a great website and a tribute to an American treasure - Top-40 radio!
A few years ago I started collecting airchecks as a hobby. For my 25th year Woodruff High School class reunion (Class of '75), instead of hiring a "DJ", the committee hired me (for free - such a deal!) to run some vintage airchecks from 1970 - 1974. These featured Larry Lujack and John Landecker complete with the original commercials, jingles, and news to run during the banquet. It was like an audio time capsule playing in the background! The old sounds from WLS and WCFL really helped bring back some great memories that evening. I'm now privileged to share these airchecks and memories through the RT40RR web site, thanks to your interest and support of this site."
The Repository thanks Larry Ware for sharing!