This Exhibit 'SCOPED (27:39)

[Description by Uncle Ricky and contributor Larry Ware]
. . . Be good, be gay and be ? . . .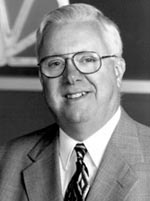 Lee Ranson,
WEEK-TV, 2001

What is it that

Lee Ranson

says in the sign-off for his last

Go Show

on Peoria's

WIRL

? Back? Bad? Bag?

Lee Ranson worked in Peoria broadcasting all his life. He retired as a meteorologist from WEEK-TV in Peoria on October 21, 2011. On his final WIRL show, he said that he worked at WIRL for four years, two months, and two weeks — over 1,250 shows during which he claims to have played over 100,000 records.

Lee's show ran higher in audience shares in the Peoria market than WLS's highly popular Dick Biondi. Lee told contributor Larry Ware that he once met Biondi through a former WIRL DJ that went to work for WLS. Mr. Biondi told Lee that he wanted to meet the only man that beat him in the ratings in the state of Illinois! This aircheck came to Larry from Spencer Stewart, another former WIRL employee, who worked there until 2000 when the station was sold and the historic call letters were dropped. It's a slightly distorted studio recording from 11PM to Midnight on November 27, 1964, and is a remarkable record of a top-rated local radio station with a serious commitment to community affairs.

Robert Porter

rescue a kitten and take it home in "Satellite 3". What's even more incredible is that he apparently gives his home phone number and offers to deliver the kitten to the rightful owner! This Is What WIRL Had To Say Today is a station editorial on the very serious topic of depreciation! All this is soaked in reverb and surrounded by the Top 10 hits of the day. And, as we have heard on other Top 40 stations of the era, the chart numbers are announced as "The Sound Of (number), ie: The Sound of Nine, The Sound of Eight,etc.

The first newscast includes a "special report" from Stan Harold, who reports from Hollywood on rising star Tommy Quickly and speaks with his manager, Brian Epstein.
| | |
| --- | --- |
| | Lee Ranson, WIRL Peoria IL., November 27, 1964 |