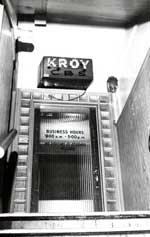 Entrance to the KROY-AM Studios at 1010 11th Street, 1960's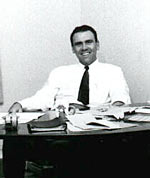 KROY GM Dwight Case, 1964. Case was later President of RKO Radio and founded Transtar.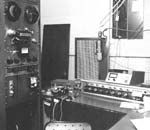 The KROY Production Room, 1964.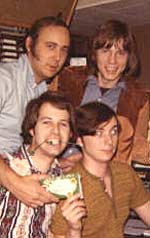 (L-R rear) Chuck Roy, Don Christie, (front) Martin Ashley, Dave Williams, KROY 1972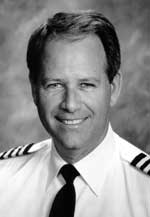 Martin Ashley, 2000

Martin Ashley writes:
The telephone rang early one morning at my "day job," a United States Army recording studio in El Paso, Texas. It was my friend Johnny Hyde, who I had worked with a couple of years before at KXOA, Sacramento. He was now the Program Director for KROY. I was moonlighting on the 7-Midnight shift at KELP (Top 40), and a year earlier had been with KROD (MOR), both in El Paso. Johnny wanted to know when I was due to get out of the Army. I said next month. That was August 1, 1969, to be exact.
I had spoken with Johnny a few months prior when he left KXOA to join KROY as the PD. He said to "...give me a call when you're ready to return to Sacramento." Now, he was asking where was his aircheck of my KELP show. I had procrastinated since I didn't really need a job. Then Johnny commented, "...well, I like to hear the Jocks I hire." Hire? I was hired? But I was due to return to KXOA once my Army "obligation" was over.
As I fumbled for a piece of paper, Johnny became more emphatic, "I need you at KROY. We'll see you on August 2nd!" At this point I had no idea what a mega-station KROY had become in my two years absence. So I naively said "okay...see you on the 2nd." And that's how I got the best radio job in my 34-year career.
I didn't start out in radio being "Wonder Rabbit." I started by using my real name, Martin Ashley. Hell, all my friends knew "Martin," but who knew Wonder Rabbit? Funny thing about nicknames. Most stick-for life. After a few months at KROY as me, I was posting a PSA in the control room when our midday Jock, Bob Sherwood, cracks open the microphone and says,


Bob Sherwood, 1969

"...and Wonder Rabbit will be here tomorrow night at seven." Earlier that day he had crossed out my humorous "Wonder Boy" notation on a PSA and changed it to "Rabbit." The following week we got new top-of-the-hour ID's. As a joke, the station "voice" and consultant Graham Richards recorded one that said "And now, another Music Power Hour with Wonder Rabbit!" (as the chuckle trailed off).

Now the phones were going crazy asking for this Rabbit. Kids, young women, and their mothers! There was no going back — I was Wonder Rabbit for life. Thanks a lot, Bob.

That was 1969. In March 1974 I joined KNDE (formerly KXOA-AM) with KROY alumni Dave Williams as PD. In December 1975 I was approached by Concept Productions, a local radio syndication house, to take the Rabbit out of the Sacramento "hutch" and distribute the show all over the country. That little project lasted thirteen years. I once figured out that while doing that syndicated morning show I intro'd over 236,000 songs, and recorded another 120,000 "customs" for all the stations. Excuse me while I clear my throat.

It was back to KROY-AM in early 1980 for mornings with my good buddy Barry K. Fyffe. Then to KROY-FM in Mid-1985 for an "Oldies" show on Sunday nights. Sort of Wonder Rabbit Favorites, or something.

Throughout my years in radio I've concurrently been on-air, the station engineer, and a production voice. I now divide my time between working in Radio Services for the California State Senate & Assembly at the Capital in Sacramento, and the "book" announcer for KVIE, Channel 6, the local PBS affiliate. I realized a lifelong passion a few years ago and became a pilot. Plane ownership is analogous to Tom Hank's movie Money Pit, but the thrill I receive from my volunteer work with Angel Flights West and Flying Paws, and other flying programs rivals my early days in radio.

I want to thank the Academy. . .

The Repository thanks Martin Ashley for sharing!