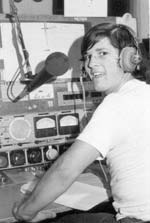 Mark (16) at KCBQ, 1975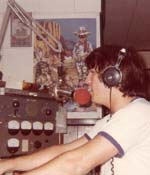 Mark at KAMP, 1977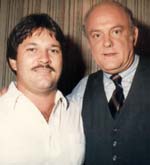 Mark Gleason with
Gordon Jump, 1985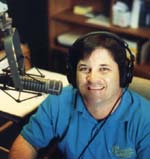 Mark at KJQY, 1994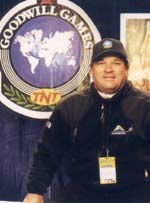 Mark at the Goodwill Games for Turner Sports, 2000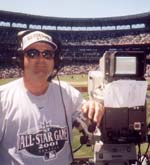 Mark at the All-Star game for ESPN, 2001


By Mark Gleason

My radio career started in the summer of 1975 at the ripe old age of 16, when I answered phones in the morning at KCBQ in San Diego for Jay Stone. It addition to answering the phones, I stuffed surveys in envelopes, went on food runs for the jocks, and most importantly, started learning how to operate the audio equipment. I spent a lot of time in the production studio and put together some airchecks in anticipation of getting on-the-air someday somewhere.

Jay got let go in the Spring of 1976 and migrated to Denver, Colorado to KTLK. We still kept in touch. When the summer rolled around, he asked me if I'd like to come up to Denver for the summer, live with his family, and get on-the-air there. Well, I packed up my red Chevy Vega and bit the road.

My first on-the-air job was at KYSN in Colorado Springs in the summer of 1976, July 5th to be exact. I also made a couple of appearances on the overnight show on KTLK in Denver that summer. In September, I returned to San Diego to complete my senior year in high school. I still wanted to be on-the-air, so I made some phone calls and landed a job working weekends 120 miles to the east at KAMP, a 1,000 watt daytimer in El Centro, CA. I worked Saturday afternoon and Sunday morning.

In October of 1976, I landed a job at B-100 with Bobby Rich at the helm. I wasn't on-the-air, but I answered phones and spent more time in the production room learning the ropes.

Eventually though, I did end up working weekends and swing at B-100. In August of 1978, I moved over to 91-X (XETRA-FM) with Gene Knight as PD. We taped our shows in a studio in downtown San Diego and then drove the tapes across the border. I was one of the tape couriers, in addition to doing weekends.

In August of 1979, after about 400 trips to Mexico, I moved on and went to work for programming syndicator Peters Productions, eventually rising to Production Director. Before I left there, I also got to program their rock format. In October of 1981, I left there and went to work for an audio/video production house in San Diego called Lightning Corporation (see Mike Larsen/KROY) as Audio Production Director.

After winning local awards for my audio production, in October of 1991, I decided to take a different direction with my career. I wanted to get back into radio and also explore the possibility of being a TV cameraman. I made some calls and landed a weekend gig at 92.1 KOW-FM (KOWF), a country station in Escondido, which is in northern San Diego County.

In December of 1991, I started working weekends and swing at Soft AC Sunny 103.7 (then KJQY). Ten years later, I'm still working at that frequency which is now 103.7 The Planet (KPLN). I also do some work across the hall at Soft AC Kicksy 96.5 (KYXY).

My main job now is as a free-lance Camera Operator, doing mainly sports. I work for ESPN, CBS, Fox, Turner Sports, WGN, as well as doing local sports in the San Diego area. Living in Southern California, I've been lucky to hear some great radio. Locally, I listened to KHJ, KCBQ and B-100 during their heyday in the mid to late 70s. I also have traveled around the country recording some of the greats of the industry. I'm grateful to be able to share these airchecks with you!