Marty Johnson as a very young DJ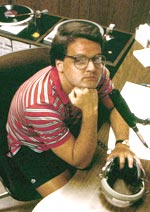 Marty Johnson at WFMF, Baton Rouge, 1982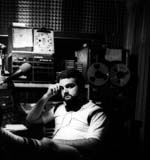 Mature Marty Johnson in a very dark studio

Marty Johnson of Shreveport, LA, got his first radio job at age 16. It was 1976, and Marty pulled various shifts at KEPT, a religious FM station in Shreveport that is known as KVKI today.
There were other stations, but one year later, he went to work at KEEL (710 AM), the area's dominant top 40 station. Marty did mostly night shifts, and was named Music Director before leaving in 1981 - for law school.
Mr. Johnson attended law school at LSU, where he worked weekends at WFMF in Baton Rouge. WFMF was the area's dominant Top 40 FM and pulled 20 shares, book after book.
During Summers, Marty worked fill-in at KEEL. Once, he did a morning show with former KHJ newsman J. Paul Huddleston. (Huddleston did morning news at KEEL for a few months in 1982.)
In 1985, after law school, Mr. Johnson returned to Shreveport to start his law practice. He was back on the air between 1990 and 1992, doing a weekend shift at KVKI, (where he started at age 16.) When Marty's son Jared arrived in 1992, his wife Melanie asked him to stay around the house on weekends.
Mr. Johnson is allowed to visit the Repository as often as he likes, and for that, we thank his family and his law firm. He's also been a big supporter of the Repository from the beginning, and for that (and his wonderful airchecks), we thank him. Thank you, Marty!