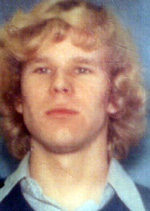 Mike, 1975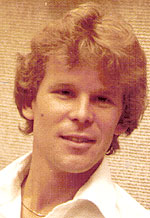 Mike, 1979
(KBAK-TV, Bakersfield)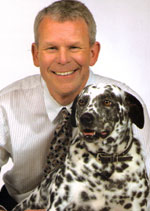 Mike and Sam Dog
(KGPE-TV, Fresno)

Mike Scott was born in Seattle in 1953. The Air Force re-assigned his father overseas, so Mike attended school in England for several years, before moving back to the U.S. and growing up in Las Vegas. The debut of this Collection on November 27, 2011 celebrates his birthday.
Happy Birthday, Mike!
His first radio jobs were in Rhode Island, at WERI in Westerly, and at WSVP in West Warwick. He played the hits as Christopher Jordan.
He soon discovered his primary interest was broadcast news. He started his news career at WSAR in Fall River, Massachusetts as Roy Wood, while still working as DJ Chris Jordan. Simultaneously, he worked weekends as Scott Martin at WJAR in Providence, R.I. It was at WJAR that he first worked with Uncle Ricky.
In 1975, Mike Scott joined WFEC in Harrisburg, PA. as full-time News Director. In late 1976, he moved to Bakersfield, California and KAFY, consulted by John Rook.
It was in Bakersfield in 1979 that Mike made the jump to TV, joining KBAK-TV/29 as a reporter, evolving into an anchor, and eventually moving to KGPE-TV/47 (CBS) in Fresno, California, where he appeared as anchor and reporter for over 25 years. He left Channel 47 in June, 2013.
In late 2006, readers of Fresno Magazine voted Mike the second most popular television personality in the Central Valley, and Mike's TV47 Blog was voted Best Local Blog in the 2011 Best of Fresno competition.
Since 2000, Mike has served on the REELRADIO, Inc. Board of Directors as Secretary, Treasurer and Chief Financial Officer.
The Repository thanks Mike Scott for sharing!