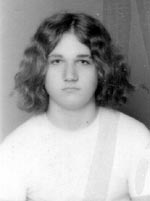 T. Storm Hunter, 1972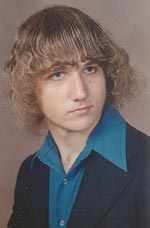 Mark Tucker, 1974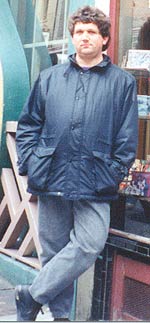 T. Storm Hunter, 1993




T. Storm Hunter

; (birth name: Mark Tucker) pianist, composer, producer, and Sideways Hipster; (b. Laurel, MD, Oct. 11, 1957). His family moved to the Chicago area in 1958, where he lived until 1979. In that year, he moved to Encinitas, California, where he still resides.

In 1968, with a ten-dollar bill that he stole from his father's wallet, Stormy made his first record, a direct-cut acetate of piano solos, experimental music, and silliness. In 1970, with his neighbor, friend, and colleage Louie Easley Hanley (b. Oak Park IL 1955, d. Lafayette, IN 1996), he formed Tetrapod Spools, a small record company, releasing tapes, records, and eventually CDs of their own music and also that of others.

In 1975, Tetrapod Spools released "Batstew"(shown as by Mark Tucker). Experimental in nature, rife with tape manipulation, industrial space-folk, and spoken word pieces, it was ignored by radio, reviewers, and the public. Original pressings have since become sought-after collector's items, fetching hundreds of dollars in record auctions.

Stormy's interest in radio began at age 11 in Oak Park, IL when he listened to WLS and WCFL at night through a pillow speaker in his bed. He imagined that being a DJ was the most glamorous job in the world. Shortly thereafter, he began recording big chunks of these stations' broadcasts.

This hobby continued throughout the years and he kept almost all of the tapes, never realizing that they would become important historical documents. Upon finishing high school, he decided to make radio a career. It never panned out, and his radio career consisted mainly of recording his own "radio" shows on cassette (for which he composed and performed all of the jingles and commercials) and giving them away to friends.

One of the remnants of this hobby appears on his 1983 album "In The Sack" (also shown as by Mark Tucker) in a track called "Station ID".