TOP STREAM 32Kbps (8Khz)

. . . Can a woman of 55 find happiness with a man twice her age? . . .
[Description by Uncle Ricky. Contributed by Stormy Hunter]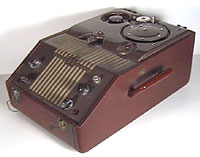 The Webster Chicago
Wire Recorder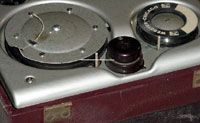 Up close, from the back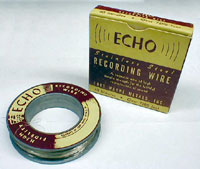 Echo "Hi Fidelity" Recording Wire

When contributor

T. Storm Hunter

purchased a used

Webster Chicago Wire Recorder

years ago, it included a spool of recording wire. Stormy was delighted to discover that the wire contained a recorded program featuring

Jim Hawthorne

on

KNX

radio in Los Angeles. On the wire spool, someone had written "November 8, 1951".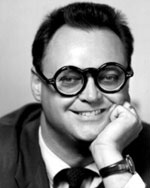 Jim Hawthorne

Jim Hawthorne passed away November 6, 2007. He was 89 years of age, just 2 weeks short of his 90th birthday. Some referred to Hawthorne as the first "free form" disc jockey, beginning his career at

KXLA

Los Angeles at the beginning of personality music radio in the late 1940's.

His concurrent work in television, however, made him an early multimedia star and a truly unique broadcaster. In the early 1950's, he created the first late evening talk show on TV, This Is Hawthorne, considered by some to be the predecessor of Saturday Night Live. He also created, produced and starred in a Saturday night coast-to-coast radio program, The Hawthorne Thing. It was the last radio network show orginated from NBC's Hollywood Radio City.

Hawthorne was also actively involved in First Generation Top 40, producing features for KYA (San Francisco) and KDAY, Los Angeles. In the early 1960's, Jim Hawthorne joined KFWB/Los Angeles in mornings and as Assistant PD. He eventually was promoted to Vice President and National Program Manager for Crowell-Collier Broadcasting. He worked at KHJ from 1962-1963. He produced children's programming in Hawaii and was Creative Consultant for Aku on KGMB. In 1970, he moved back to his home town of Denver, Colorado, where he became GM at KOA. He moved back to Los Angeles in 1980.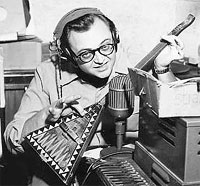 Jim Hawthorne and his instrument

This KNX program features some of the greatest voice and comedy talent of the era. Hawthorne's first guest is

Stan Freberg

. Hawthorne and Freberg perform a live parody of Freberg's controversial John and Marcia single, called George and Cynthia.

Arthur Q. Bryan

is introduced as the voice of

Elmer Fudd

, and

Dixie Doogan

cartoonist

Renny McEvoy

joins Hawthorne for a musical performance. Hawthorne also reads a letter from

Bill Ballance

in Denver, and offers a gag with McEvoy where he encourages the live studio audience to "call it out - he can play anything!" The program is sponsored by

The Los Angeles Brewing Company

, makers of

East Side

beer. Every time it's time for a commercial, Hawthorne creates a surprise introduction.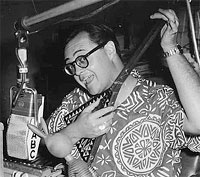 Jim Hawthorne and his instrument on ABC

There is very little documentation regarding this show and Hawthorne's time at KNX. Hawthorne was selected to replace

Steve Allen

on his Saturday Midnight show when Allen was called to New York to host The Tonight Show. The exact date of this broadcast has now been determined. There's a reference to Wabbits and a recent Easter. Google Books

Billboard

® archive of April 14, 1951 includes a short promotional item about

Frank Devol

's new record, Theme for John and Marcia, which Hawthorne refers to on this show as a "new record". Although the wire recording was labeled November 8, 1951, it's likely this show was broadcast earlier in the year, in the Spring of 1951. Our dedicated REELRADIO research team has decided on Saturday, April 7, 1951. (see COMMENTS).

For a program of this vintage, the fidelity is surprising, better than many of the cassette recordings made twenty years later. Of course, it's likely the wire was an original recording, not a copy, and there weren't any alignment issues. Some portions of the recording were lost and it may never have included the entire show. A few minutes from both the beginning and end were missing, and a small portion was lost when the original machine owner recorded a birthday message.

Jim Hawthorne, KNX Los Angeles, 1951