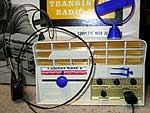 Paul's First 1-Transistor Radio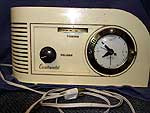 The Retrieved Clock Radio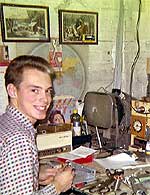 Teenage Paul at his electronics bench, mid-60's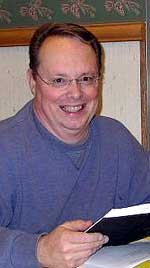 Paul, a Baptist Pastor
for over 32 Years
Evergreen Baptist Church

As a youngster, I became enamoured with electrical things and radio. I received my first radio for Christmas - a one transistor kit from Remco. I put up the fifty foot wire antenna, found a good ground pipe and was listening to the strongest station in Detroit, WJR. I could also get CBE Winsor, Ontario. The programing there was classical music and hockey games.

As I entered early teen years, I came across a treasure in the Detroit alleys walking home from school - an old clock radio. The cord had been cut, but I brought it home, attached a cord and plugged it in. Sparks flew as one of the tubes lit up like a Christmas light. It was the 35W4. My dad usually kept all his old tubes he had replaced at the corner drugstore and sure enough there was a 35W4. It said "weak' on the box. I plugged it in and tried the radio again. WOW - there was sound and I was in business.

Now there was WXYZ, CKLW, WKNR, and WJBK. I listened to Tom Clay, Joel Sebastian, Lee Alan, Bob Green, and all the WJBK DJ's. They soon became my favorites.

And WJBK would become my favorite station in the mid 1960's. I lived on the east side of Detroit only to find the signal dropping off the dial at sunset. Those days they broadcast an AM-FM simulcast. On a limited budget I could not afford an FM radio, so I built a one tube FM radio (superregenerative circuit) to listen to WJBK. The fidelity was fantastic. Later I saved to buy a standard FM set.

The exhibits in my collection are reel-to-reel recordings of the "Jack the Bellboy" show on WJBK-FM made with my one-tube receiver. One of the commercials features Joel Sebastian doing a "Detroit Dragway" spot. Other WJBK personalities are also included.

I built a small AM transmitter (FCC-compliant "phono oscillator") and "played DJ" for friends in my neighborhood for a year in the evenings after school, but never went any further in a radio career. There were other plans for me. I would go on to Bible College and Seminary, becoming a Minister of the Gospel — now for over 32 years.

The Repository thanks The Reverend Paul Schmidtbleicher for sharing!