. . .
I suggest the chap that writes that should go into the aluminum screening business
. . .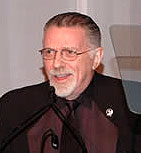 Dan Ingram at the 2007 RHOF Awards Dinner. (Picture by Donald Pointer, courtesy Museum of Broadcast Communications.)
[DESCRIPTION BY UNCLE RICKY]
Dan Ingram was inducted into the Radio Hall of Fame of The Museum of Broadcasting in Chicago, on November 3, 2007. Gee, he's only 72, unquestionably one of the most-loved Top 40 talents of all time, and now he's officially famous! I suspect tuxedos and round tables with fancy linens were involved.
Contributor Rob Frankel says that Johnny Donovan asked him to create this demo for the 2007 MBC Radio Hall of Fame Induction Committee, so it's reasonable to say that this short composite aircheck is an award-winner. (Portions of the airchecks featured have appeared on other REELRADIO exhibits.)
REELRADIO congratulates Dan Ingram on this long overdue award. Sorry we don't have a big ceremony and nice tablecloths!
[CONTRIBUTED BY ROB FRANKEL]

COMMENTS FOR Dan Ingram Demo for Radio Hall Of Fame Induction Committee, 2007