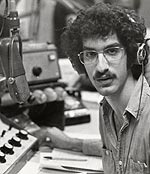 Rob Frankel at WOCR, SUNY College at Oswego, N.Y. 1975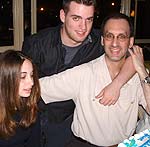 Rob with his kids,
Alyssa and Jason

Rob Frankel discovered radio in late 1965 when a friend turned him onto the sound of the WMCA Good Guys. Listening to WMCA (and later WABC, WWRL, WNEW-FM, and others) provided him not only with great entertainment, but also a direction in life.
After being bitten by the radio bug, Rob briefly aspired to be an air talent, but soon realized that his real talents lie in production and programming. Opting to go the network / syndication route (therefore bypassing the nomadic existence of the local radio jock or PD), he worked as a producer/engineer for the Progressive Radio Network's "NewsBlimp", and as Head Producer for Drake-Chenault's 48 hour fantasy concert, "SatCon 1". Rob's connections at Drake led him back home to New York, and he spent the next eight and a half years working as a producer / engineer for the legendary RKO Radio Networks (which evolved into United Stations, Unistar, and ultimately ended up as a part of Westwood One).
In 1989, Rob left the network, and moved into his present job when he joined Radio Today Entertainment as one of the producers of "Flashback!" (on air since 1987) and "The Live Show" (for which he won a gold medal at the 1993 International Radio Festival).
In 1998, Radio Today was bought by, and ultimately absorbed into the ABC Radio Networks. Parent company Disney spun off the radio division to Citadel Broadcasting in 2007, and the radio networks became known as Cumulus Media Networks in 2011. Rob was the Senior Producer for Cumulus Media Networks' New York production team. From 2000 through 2009, Rob was also Co-Producer and Tape Restorian for WABC Radio's annual "WABC Rewound" special, a look back at the station's history as a Top 40 icon, told entirely through vintage airchecks. Since 2012, Rob has been Co-Producer of "Time Warp with Bill St. James", a 4-hour weekly classic rock series distributed by United Stations Radio Networks. He also freelances as a Master Control engineer for New York Public Radio, and is available for other audio projects as well.
After all these years, Rob still loves working in the medium, and is still a fan of classic rock 'n' roll radio. He has been recording, collecting, and restoring classic radio airchecks since the 1960's, and is proud to share some of his best here on REELRADIO.