. . . with The Server . . .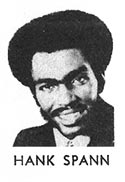 From WWRL Survey [DESCRIPTION BY UNCLE RICKY - CONTRIBUTED BY ROB FRANKEL]
Hank Spann passed away on October 14, 2009. This short aircheck from May, 1973 demonstrates his flawless, soulful and smooth presentation.
Spann is most fondly remembered as The Soul Server on WWRL, New York, but he also played R&B on WAOK Atlanta, GA., worked as a promotion executive for Warner Brothers/Reprise, and appeared as The DJ on James Brown's 1974 hit, The Payback.
Word of Spann's death spread quickly in the online radio community, but we know little else. We do know he passed in Northern California after a long illness.
Duplication and/or distribution is a violation of our Terms Of Service.

COMMENTS FOR Hank Spann, WWRL New York, May 1973