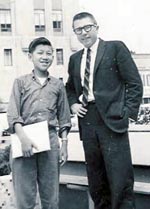 In 1960, while in high school, I did some weekend work at KEWB, where I met the morning man, Gary Owens.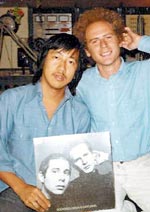 With Art Garfunkel at KSAN. One good LP cover photo deserves another. [Photo by Dianne Fong-Torres]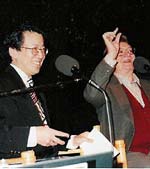 Fog City Radio, KQED-FM
One of my favorite guests was one of my childhood idols, Steve Allen. [Photo by Dianne Fong-Torres]


By Ben Fong-Torres, December 2001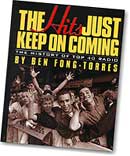 My love story with radio is pretty much told in my history of Top 40 radio, The Hits Just Keep On Coming, which was published in 1998. It's out again, in paperback, this time with a lower price and a free CD of excerpts of airchecks from 16 legendary deejays. What a country!
And what deejays — from Alan Freed and Murray the K to Scott Shannon and Rick Dees, and including Gary Owens, Casey Kasem, Dick Biondi, The Real Don Steele, and many others.
But the CD allowed room for only a few minutes per jock. It doesn't come close to what you find here at REELRADIO every day. That's why I've decided to put up a collection — of things I gathered while researching the book, and from years before, as a fan of Top 40 radio. I've scoped most of the airchecks, so they're pretty fast and frantic — the way God intended Top 40 radio to be.
Besides some great deejays who, for one reason or another, have not had their airchecks on this site, I've finally allowed myself to be heard. You'll soon comprehend why my career was in writing about music and radio (at Rolling Stone, GQ, The San Francisco Chronicle, and elsewhere), rather than in performing.
Although my childhood love was for Top 40, I wound up doing free-form, underground, progressive FM rock on the pioneering KSAN in San Francisco. But in the clip I've included, you'll hear me crossing over to AM by way of a phone call to Russ "the Moose" Syracuse. Even in our phone conversation, you'll be able to sense my fondness for the Moose.
You may know that when Russ died in April 2000, Bobby Ocean, John Catchings and I produced a memorial composite of Russ' work (it's here on REELRADIO).