This Exhibit 'SCOPED (14:27)
. . . on One-Oh-Onederful . . .

[RESTORED BY ROB FRANKEL. DESCRIPTION BY UNCLE RICKY.]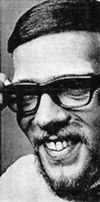 Bill Brown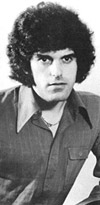 Gus Gossert
Both of the talented young men heard on this aircheck are remembered for their contributions to New York radio. Bill Brown passed away following a long illness on October 9, 2011. Gus Gossert was shot to death in August, 1976. In this restored aircheck from July 13, 1970, both Brown and Gossert are heard on WCBS-FM in New York City.
Brown's radio career started in 1957 at WCLB in Camilla, Georgia. After four years in the U.S. Navy, he joined KGB in San Diego, and in 1967 he moved to WOR-FM in New York City. Both Brown and Gossert were hired by WCBS-FM in 1969. Gossert, who worked in Hawaii and San Francisco before coming to New York, is widely credited with re-popularizing doo-wop oldies. He often identified himself as the curly-headed kid in the second row, a moniker he adopted from legendary DJ Peter Tripp.
A short newscast opens this exhibit. There's also an anti-methamphetamine PSA featuring Grace Slick. As always, recordings of WCBS-FM from this era defy a precise format categorization, It's a hybrid of Top 40 and album-oriented contemporary music.

COMMENTS FOR BILL BROWN, GUS GOSSERT, WCBS-FM, JULY 13 1970
---