TOP STREAM 64 Kbps (14 Khz STEREO)

Flashback! ABC Radio Networks September 1998 (48:56)

This exhibit is UNSCOPED, meaning that all the music is included. We are required to pay a fee for each listener for all musical performances on this recording. Plus, we must also pay the cost of Internet bandwidth to deliver it to you. We are a user-supported organization, and if you enjoy this exhibit,

please say thanks with your support

.

. . . Oooooh. What does that tube do? . . .

[Description by contributer Rob Frankel]

FLASHBACK!, a production of the ABC Radio Networks, has been a staple of Album Rock / Classic Rock radio since 1987. It's hosted by veteran radio and voiceover talent Bill St. James.

The program blends classic rock from the sixties through the eighties, along with clips of vintage TV, movies, comedy, newscasts and even rock'n'roll radio from that era.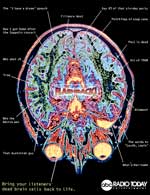 Click to Get Large
Flashback! is one of the most production-intensive shows on the air in any format. Four producers put together each four-hour show. Three out of every four hours are dedicated to one theme.
ABC's VP of Production, Tom Powell, Producers Frank Guida and Ken Michaels, and writer David Landau all work on this program. I selected this "radio-centric" hour for inclusion on REELRADIO.
This radio-themed hour is filled with vintage radio clips, along with comedy and audio collages about our favorite medium. The first two segments were produced by Rob Frankel. The third segment was produced by Tom Powell.

regarding Flashback! September 1998