TOP STREAM 32.0Kbps (10 Khz)


PD Profile: WYRE Annapolis MD 1973 (10:00)

. . . You might even say it compares to David, going against Goliath . . .

Description by Uncle Ricky

Here's a rather remarkable Programmer's Digest Profile published in Volume I, Issue 16 on June 4, 1973. The station is WYRE in Annapolis, Maryland — a 250-watt daytimer surrounded by dozens of better signals. The profile begins with an introduction by Jim Cooper, of WMAK in Nashville, TN. This exhibit is from the original vinyl.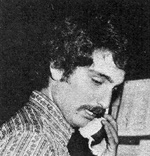 Dennis Constantine, 1973 At the time of publication by REELRADIO, June 2012, Dennis Constantine is programming KFOG in San Francisco, so he apparently really was as bright and talented as you will hear him here — 39 years ago.
This composite features some of the most familiar voices in the Baltimore-Washington D.C. market, including Paul Rogers, David Jones, Jim Tice, and two "newcomers", Charlie Rivers and Sandy Gannon.
There was an 8-person news staff, an 8-person sales staff, and the station was one of the Top Five Billing Daytimers in the country, circa 1973. And yes, they don't make 'em like this anymore...