TOP STREAM 32Kbps (10Khz)
. . . Get it while you can . . .
Description by Uncle Ricky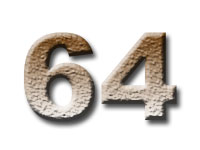 This is the "Vanity Exhibit" for my Sixty-Fourth birthday, January 8, 2015. It's 'scoped, and a composite of portions of at least two different Saturday night programs at

WJAR

in Providence, from around Christmas, 1974, maybe early 1975. My official job was Production Manager, but I did one weekend slot and fill-ins as needed. I guess they didn't like my act in the front office, and somehow I lost my Saturday afternoon shift and ended up on Saturday night, where local college basketball took most of my shift.
Of course, I resented this re-assignment, so I was determined to enjoy myself. I called it the "All Time Low Rated Boogie Broadcast", and I played mostly loud music and current hits. I didn't break the format, but we had a lot of freedom in selecting the non-currents. I didn't try to sound "adult", either. I just wanted to have fun. Shamefully, I was only 23 years of age! Look at me now, all old and stuff.
I think I was asked to leave after the Fall ratings were released, a couple months later, but so was my boss, Brother Dave Hedrick. The consultant, Tom McMurray, was also released.
I've always wondered how much my shenanigans and bad attitude might have had to do with our short-lived success. I'll have to look deeper, but this could be close to the last air work I did in Providence.

COMMENTS ON UNCLE RICKY, WJAR BOOGIE BROADCASTS, 1974
---