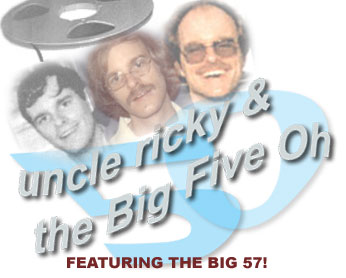 by Uncle Ricky
Let me make this perfectly clear: The DJ on this aircheck is me, at the age of 19, and I was really bad — OK? I've chopped it down to mostly loud noises and cool jingles. But you've been warned.


TOP STREAM 32.0Kbps (16Khz)


R.W. Irwin, WECU Greenville N.C., May 1970 (7:40)
. . . number THREEeeeeeeeeee of four heavy happenin' hits in a row . . .
On the event of my 50th birthday (January 8, 2001), I offer this loud recording of WECU (The Big 57) from May 11, 1970. WECU was a carrier-current AM station operated by and for the students of East Carolina University in Greenville, N.C. I do this not to demonstrate my performance as an air talent (which truly sucks!) but as a demonstration of the things I loved most about this generation of Top 40 radio: the reverb, the jingles, the time-tone, the accent button and the single-channel Raytheon AGC/limiter (with tubes!)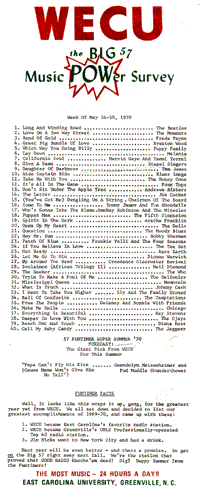 WECU Music Power Survey, May 24, 1970. CLICK HERE for a giant 85KB file that is readable.

Here it was 1970, the "Boss" revolution had boomed and was beginning a slow fade on the West Coast, but 1960's Storz Top 40 was the order of the hour at this small eastern Carolina liberal arts school. I don't remember exactly how I bribed people to let me do it, but even though all the jocks were volunteers, and some hated Top 40 music in general, they all wanted to sound like big-time DJ's. While many college radio stations featured Free-Form 101, The 57 Funtimers played it by the rules.

This aircheck was made just a few weeks before the end of my freshman (and final) year in college. More than anything, I wanted to work in radio, so I forgot about getting a degree and pursued a paycheck, instead.

The reverb was a Fisher Space Expander. It was mounted in a metal cabinet, complete with balanced I/O, and a power supply for the relay that activated the "accent" feature. The jingles were a re-sing of a PAMS WQAM Grid package. I was the "imaging" voice, as well as the voice of Mr. Treasure, David and Lisa.

College pal Carl Davis (also a freshman) plays the part of the "57 Addict". WECU was a "carrier-current" station serving a dozen different dorms. A 50-100 watt AM transmitter was located in the basement of each dorm and the RF was coupled into the building's AC power system. Audio was fed by phone wires all over the campus. Failures were all too frequent.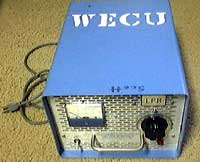 Actual WECU Carrier Current Transmitter. Operated in the basement of Scott Dormitory at East Carolina University in 1970. Saved and photographed
by Boris D. from Canada.

The voice that speaks my name (at 1:32 into this epic) is that of Doug Limerick (ABC Radio News) who was working at WIXE in Monroe, N.C. at the time. (My Professor of Top 40 Programming was Brother Dave Hedrick, GM/PD at WIXE.) I think the time tone was a direct WIXE rip, too.

I ripped off Jack Gale and BIG WAYS in Charlotte for the Mr. Treasure promotion, and 57 Fundamental News was patterned after my all-time favorite WFUN Funcast, of course.

I've cut this pretty tight, hope it's tight enough. In any event, it's my birthday, and this is what I wanted to play. It was a time when I loved working in radio, and I imagined great future success in radio, and I thought radio would always be my work. I still love Radio, and even though she's forgotten me, I've not forgotten her.

For my 50th birthday, I do recognize I've been blessed to have lived this long without major illness, accident or bankruptcy! Thanks to those who have helped make my way easier, at whatever time, for whatever reason...