Richard Irwin, WIXE Monroe NC July 18, 1969 (48:12)
. . . Your guy R.I. on the radio . . .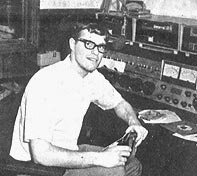 Richard Irwin (aka Uncle Ricky) in the WIXE control room, 1968. The console was a 10-channel Gates Diplomat. There were 4 ATC tape cartridge decks over the console, and 3 QRK turntables to the left.
It's a muggy, overcast Friday, July 18, 1969. Apollo 11 is approaching the Moon and the world is glued to the radio and television to watch the historic landing. Meanwhile, Ricky is manning the radio booth at one of his first radio gigs, WIXE in Monroe, North Carolina, hosting the Fab Friday program.
You'll hear the WIXE time-tone, jingles galore, "accent" reverb, songs that bring you back to the era, phone-in contests, and news reports prominently featuring the moon landing. Some goverment offices took Monday, July 21, off so their employees could watch the moon walk.
Another recording from this era can be found elsewhere on this site, with more biographical and technical information. This tape was found among Richard's belongings after he passed away. Presumably he obtained it from his mother's home when she died in 2006. The quality is pretty rough, but considering its age and the consumer equipment he used to make the recording, it's just exciting to hear his youthful voice breaking through the static.