by Ron Jacobs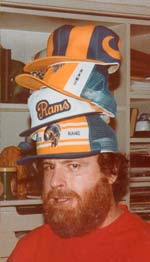 Rams Fan Ron Jacobs, 1972

I'd been on the radio since I was 12 doing kid shows. When a paying job opened up I dropped out of high school. At 17 I knew the radio business could provide me the quickest way out of town. Ironically I wanted to leave my birthplace. It is a lifelong dream destination for most people but being born and raised in Hawaii, I had my eyes set on "Hollywood."

Starting in April 1959, KPOI-AM, the station I programmed and on which I did morning drive, became the #1 station in Honolulu by October. Within two years the owners were looking for stations in California where we could apply what we had learned in the islands, hopefully with the same success.

By 1962 I was the 24-year-old Programming V. P. of Colgreene Broadcasting with ownership of five per cent of the corporation's stock. The company purchased KITO-AM in San Bernardino, California. I was dispatched there to clone our Honolulu operation from scratch. I knew very few people in Southern California radio.

Art Laboe was a friend. The hot Los Angeles deejay had visited Tom Moffatt and me during several visits to Waikiki. Additionally as a result of our 1960 "fake Ricky Nelson" stunt I was able to meet my programming idol, Chuck Blore. During trips to L.A. it was always KFWB that inspired me to strive for bigger and better things. Being out in the Pacific was a good creative exercise; it forced us to come up with our own ideas. Both Art and Chuck have always been supportive. They boosted my confidence when most people didn't give KHJ a chance when Bill Drake and I launched Boss Radio in 1965.

But in 1962 my mission was to make something out of a little station in the midst of a muddy cow pasture on Baseline Avenue in "San Berdoo." This, I quickly learned, was not Hollywood. And I was an unknown radio guy from a small market that only had one thing going for it - it was in the Aloha State. In those Jurassic days a station group could not exceed seven stations, with not more than one in a market. Often it took the F.C.C. several months to approve a license transfer. Until that occurred the new owners were not allowed on the premises or to be involved with the station's operation. (My, how things have changed!)

I stayed at the company's trade deal quarters, the Hollywood Plaza Hotel on Vine Street. The not-too-glamorous place was a few blocks up the street from the Gaiety Delicatessen. It was to that restaurant I would go every morning for breakfast, for two reasons. One, I was making up for all the bagels and lox that I was denied in my childhood and two, the Gaiety was the hangout for many unemployed California deejays.

When KITO-AM finally became KMEN-AM in March 1962 the nexus of the air staff guys I'd met over coffee at the Gaiety comprised guys I'd met over coffee at the Gaiety. Of them, no one impressed me more than Bill Watson who had last been at KROY in Sacramento. Bill lived and breathed L. A. He grew up in the San Fernando Valley where he was an athlete and a very cool cat in high school.

Watson became KMEN's first Program Director and "Mr. Kicks from three 'til six." We became close friends. He and his late wife Jody took me in as if I were family. I learned the History of Los Angeles Radio from Bill Watson.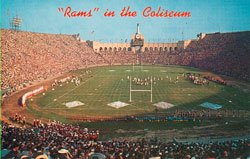 "The Rams were my religion, the L.A. Coliseum my cathedral.."

But that's not all I learned. Whenever he was not raving about deejay Al Jarvis, Don MacKinnon, Jim Hawthorne or another Southland Radio icon, Watson launched into rapturous tales of the greatest group of humans ever assembled, the World Championship 1951 Los Angeles Rams professional football team.

"How," I thought, "could a person be so insanely hung up on a football team? Players named "Crazylegs," "The Dutchman" and "Tank"?

There was too much radio work to do than dwell on football, but trapped in a car with Watson on the drive from San Berdoo to Hollywood I could always count on a 20-minute L. A. Ram Blast From the Past.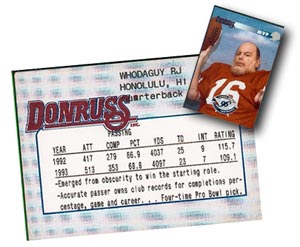 "My dream would have been
to QB rather than PD..."

What Watson's inoculation did to me - how he Rammed this Do-or-Die Dedication into my heart and soul - has affected me ever since. Many years ago, Watson's passion for football turned to bull fighting, leaving me to perpetuate his affliction.

Details of the twists and turns of where this addiction has taken me are in my story in the September 17, 2000 edition of the NFL INSIDER, the game program for that day's Rams vs. 49ers contest.

By 1972 when I moved a few hundred miles south of "my" team, loyalty to the Rams was laminated to the brain cells where such emotions are stored. KGB was in San Diego Charger territory. That team was hapless throughout my time there. I tried not to laugh out loud when Charger fans whined and wrung their hands over their losing home team. One year they went 2 and 12 or something horrible like that.

Colleagues have heard me say repeatedly, "Everyone in the radio business thinks they know how to make a #1 record; everyone in the record business thinks they know how to program a #1 station."
In the Middle Ages the same person served as both doctor and dentist. And perhaps also as veterinarian. Eventually humans realized that specialization made for a higher level of performance (although I swear that a dentist I went to in Fresno was also a practicing veterinarian.)
Over the years since a "Top 40" hit list was compiled there have been some impressive hits by talented radio people. Some include:
Jim Lowe,"Green Door," #1 in 1956
Sly (Stewart) & The Family Stone, "Everyday People", #1 in 1969.
Rick Dees, "Disco Duck," #1 in 1976.
The Big Bopper (J. P. Richardson), "Chantilly Lace," #6 in 1958.
Wink Martindale, "Deck of Cards," #7 in 1959.
Les Crane, "Desiderata," #8 in 1971.
Bill Anderson, "Still," #8 in 1963.
Tom Clay, "What The World Needs Now Is Love," #8 in 1971.
Rufus Thomas, "Walkin' The Dog," #10 in 1963.
Peter Wolf (J. Geils Band), "Must Have Got Lost," #12 in 1974
Waylon Jennings, "Good Ol' Boys," #21 in 1980
The zany team of Buchanan & Goodman released a record called "The Flying Saucer (Parts 1 & 2)" in 1956. It was on the wonderfully named Luniverse label. "Saucer" went into orbit, zooming to #3 on the national charts. Chuck Miller wrote about it in Goldmine Magazine in 1977:
"Dickie Goodman took that first step towards sampling, remixing, and symbolic juxtaposition. He was the first performer to use fragments of other people's hits to build his own chartbusters. Whether it was a Martian with Little Richard's voice, a President copping lyrics from an Alice Cooper track, or a shark with a taste for the Bee Gees, Goodman's "snippet" records became popular Top 40 radio movies.

Along the way, he battled rival publishers, record producers, copycats and America's changing musical tastes to become one of the most successful and distinctive novelty acts in the rock era." MORE about Dickie Goodman.
In 1959, the opportunity came up to use this technique, as it had for dozens of other deejays across the country. To those of us keiki o ka 'aina, (born in the Territory of Hawaii), hopefully this would be the year our islands would become the 50th State in the Union. A political matter, this typically had dragged on for years. The white man completed his takeover of the Native Hawaiian Islands by 1900. Hawaii's "delegate" to Congress couldn't vote. By 1959 island citizens were pissed off about "taxation without representation."

While the prospect of Statehood was only a local Hawaii topic I thought it would be fun to use Buchanan & Goodman's approach to the subject. Thus was born "Hawaii Strikes Back" by Ron & Jon on the SICK label portrayed by yours truly and a radio buddy named John DeMarco. It was bound to go over fairly well in Honolulu since it was played "maximum rotation" on KPOI. Record collectors tell me it keeps going up in value, clearly an example of rarity over content.

One personal motive in co-founding Watermark was to experiment in the record production process. While at Watermark (1969-72) I adhered to my axiom about radio people and record people and what they thought they knew. I concentrated on records where the music was supportive, much like radio production. Attending some Phil Spector recording sessions with Jack Nitzsche conducting a 50-piece orchestra convinced me that records didn't just "come from heaven," something I honestly think many radio people believed.

The 1971 "Cruisin'" twelve album series, re-creations of airchecks by major deejays from 1956-1967, used not one note of live music created for them. One of my Watermark albums that did, now sort of a cult classic that brings in bids on eBay, is "A Child's Garden of Grass." Billed optimistically as a "Pre-Legalization Comedy," it was a bit too hip for the time. Sales weren't helped by the release that same week of a comedy album by a hot new duo called Cheech & Chong.

That brings us to "The 12 Days of Christmas," released in 1972 and an enterprise that achieved some recognition, albeit totally by the grace of the Pigskin Gods.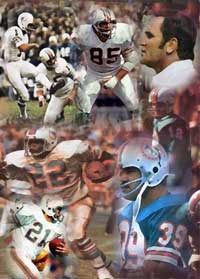 The Undefeated 1972 Miami Dolphins
This is being written on October 5, 2000. The National Football League is one-third into its 81st season. (My favorite team has a record of 5-0 and a bye this week and that is all I can say. We hard core fans have our superstitions.)
At this time back in 1972 the Miami Dolphins were playing terrific football. They were unbeaten and they just kept on winning. No one before or since has achieved what the '72 Dolphins did: They ran the table, went undefeated throughout the entire season and championship playoffs. As time passes their unblemished record becomes more awesome.
The year 1972 was also a victorious one for me. Our team had taken KGB-AM-FM in San Diego from worst to first even before the NFL season ended. (That story and one of my favorite production pieces are archived as "The KGB Recycle Documentary.")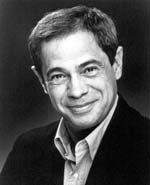 Reni Santoni,
"The Monday Morning Quarterback"

Many of my friends in L.A. would drive down to San Diego to hang out for the weekend. One of them was the actor Reni Santoni, a character actor, one of those people you've seen in movies and on TV but don't know his name.

Perhaps you'll recognize Reni the next time you see "Howard Stern's Private Parts," "Cobra," "Brewster's Millions," "Manimal," "Dead Men Don't Wear Plaid," and as Clint Eastwood's sidekick Chico in the original "Dirty Harry" plus a bunch of other feature films.

Reni is often cast as a voice-over artist (it was Reni that Dustin Hoffman listened to on the radio in "Rain Man" for instance). Reni also possesses an outlandish sense of humor.

Monday Night Football was new and hot and Reni did a cool Howard Cosell. The 1972 football season was starting soon and we decided that Reni would become a character on KGB's Monday morning show hosted by "Cap'n Billy" (Hergonson). Reni would phone in a schtick about Sunday's NFL and babble pretentiously like Cosell about Sunday's NFL games.

In the years that followed the KGB gig, Reni could be seen on such television programs as "Judging Amy," "Seinfeld" (playing "Poppy"), "The Practice," "NYPD Blue," "Walker, Texas Ranger," "Murder, She Wrote, "Miami Vice," "Hill Street Blues," "Charlie's Angels" and "The Rockford Files," to name a few.

As the Dolphins rolled along surprising everyone with their undefeated season, Reni came up with an off-the-wall concept that I was more than happy to produce. Facilitating new schemes that require oddball components is just about my favorite thing. (Or is that merely a definition of "Program Director"?)

With a few hours in Studio West in Kearny Mesa, the only San Diego County recording studio large enough to hold a high school marching band; lyrics written to a public domain Christmas song that would suit the purpose; all-purpose musician Dick Rosmini driving down from Hollywood to pull everything together; Reni's scribbling of the words for a B Side while the band practiced our masterpiece -- the entire thing was on tape within 96 hours of its origin. One phone call to Warner Brothers Records and the master was sold for $5,000.00.

Within 24 hours our anthem to the aqua, coral, blue and white Fantastic Football Fish was blasting out of just about every Miami radio station. They never stopped playing the record until the gun went off with the Dolphins winning Super Bowl VII. The season ended on January 14, 1973 when the Miami Dolphins triumphed over the Washington Redskins 14-7.

Going undefeated, they had won the Vince Lombardi Trophy — which goes to the National Football League Champions — because no one came up with the game plan to beat Miami!

TOP STREAM 32.1Kbps (16Khz)



The Rams vs. 49ers Program (left) for September 17, 2000
featured an article by Ron Jacobs that described his long-time devotion to the Rams.

Sports Illustrated, October 9, 2000 (right) "On Fire! How Kurt Warner and the Rams are torching the NFL."

(Thanks to Doug Bray, Rob Durkee, Ray Randolph and Rick Smith.)

Return to the Ron Jacobs Collection Biography and Menu

© 1997-2007 Ronald H. Jacobs