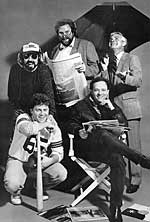 WRQC Cleveland, 1989, Top Row, (l-r) Fred Wesley, Jim "The Bear" Butler, Channel 5's Don Webster; Bottom Row (l-r) Bob Kravitz (Sports), Tom Kent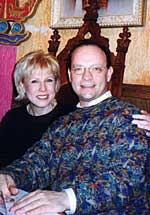 Karen and Tom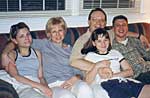 Tom Kent and family: Jackie (15), Karen, Tom, Katie (11) and Steve (17)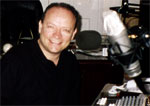 TK Hall Of Fame
Coast To Coast, 2004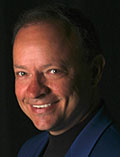 TK 2005!


It all started on a two watt pirate radio station in his bedroom in Winston-Salem, North Carolina at the ripe young age of 13. Young

Tom Kent

would put long songs on and get on his bicycle and ride around the neighborhood, knocking on doors asking his neighbors to listen. Soon after, he would have his own weekend radio show on local station

WAIR.

All through

North Forsyth High School

, young Tom would work overnights and go to school all day! That's how much he craved that precious airtime, and he was an excellent if somewhat "zombified" student. Upon graduation, Tom took his radio career on the road.

At the ripe young age of 18, he hosted the night show at WHBQ in Memphis. He was hired by Memphis Mafioso George Klein who was also Elvis Presley's best friend. "GK", as he was affectionately known, was the person who helped create the "Truckin' Tom Cookin Kent" persona. Thus, "Truckin' Tom" was born. He was one of the most outrageous radio personalities in the history of top 40 radio. As legend has it, one night in 1974 while on the air in Memphis, George Klein would be at Graceland visiting his friend "The King" — and listening to Kent. Elvis was so impressed he would ask George to set up a meeting. Elvis wanted to meet this crazy person he had been listening to on the radio, but not at Graceland. A complete stranger would never be invited to Graceland for the first meeting. So Elvis would rent out the "Memphian" movie theater in downtown Memphis and show old movies all night long. The meeting was set. Just prior to that day, a huge radio station in Cleveland, Ohio would come calling and court the young Kent to WIXY 1260. Kent promptly dissed the King and took the job in Cleveland — thus never meeting Rock and Roll's greatest idol.

Over the next several years, Tom Kent would enjoy success on the air at legendary stations like WIXY, KLIF/ DALLAS, WIBG/PHILADELPHIA, WMJX/MIAMI, WGCL/CLEVELAND, WLS/CHICAGO, and WAVA/WASHINGTON. Nominated for many awards including Billboard Major Market Air Personality of the Year, Tom would become legendary in the ranks of radio greats.

Today Tom lives just outside of Cleveland, Ohio with his wife Karen and hosted the fastest growing syndicated radio show in America called "Hall of Fame Coast to Coast" in addition to "Into the 70s" — all were heard seven nights a week on over 150 radio stations across the USA. His broadcasts originated live, every night from his basement in his home. Some say he's come full circle — back to his very early teen years when he would also broadcast from his home. Only this time, his neighborhood was the world! Visit Tom at www.tomkent.com!

The Repository thanks Tom Kent for sharing!