TOP STREAM 64Kbps (14Khz)
[Description by Uncle Ricky for contributor Tom Kent]
. . . Remember, he who laughs last, dies first - and it is possible to do both, just listen to this show . . .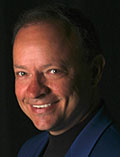 Tom Kent, 2005

We don't know how

Tom Kent

finds the time to host three radio shows at once, but he does! And that's what you'll hear in this quick-moving 20 minute demo, received in December 2005, which includes segments from each.

At the top,

you'll hear a demo for Tom's Hall Of Fame Coast To Coast weeknight show, airing LIVE via satellite, seven days a week from 7PM -12 Midnight (ET).
At 7:14,

enjoy a demo for Into The Seventies, available in a 5-hour version for weekends, or a daily one-hour version for a 70's at 7 feature.
And beginning at 13:05,

we're treated to clips of some of the weekend version of Hall of Fame Coast to Coast.
To learn more about Tom's syndicated radio programs, visit him online at The TKO Radio Network