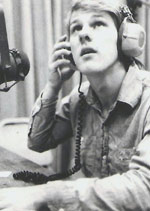 Sandy Wells, WTBS, 1975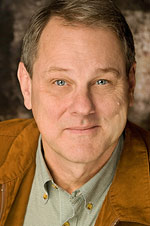 Sandy Wells, Today

Sandy Wells is a native of Cambridge, Massachusetts. He received a Zenith AM table radio from his parents for his ninth birthday in 1964, but did not listen to it for two years. By his early teens, however, he had become a radio fan, and like millions of other New England kids, kept his ears glued to WBZ, WMEX and WRKO.
In 1970, he bought a copy of Ron Jacobs' "Cruisin' 1961," featuring WMEX's Arnie "Woo Woo" Ginsburg. From then on, he was hooked on radio.
In high school, Sandy began hanging around the MIT radio station WTBS-FM/88.1, (now WMBR). Sandy got to meet some of his radio idols as a production assistant for the "Austin in Boston" morning show on WVBF-FM in the mid-70s. Later, he worked a 12-hour weekend shift on WHEB-AM/FM in Portsmouth, N.H. Sandy also worked at radio stations as a staff announcer/air personality in upstate New York (WDOS/WRSK-FM, Oneonta), Westchester County (WFAS/WWYD-FM) and New Jersey (WHWH/WPST-FM).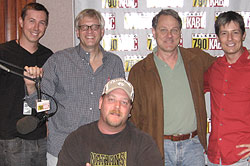 Sandy (2nd from right) with co-workers at KABC, Los Angeles
Sandy currently lives in Los Angeles where he is married with one daughter.
He worked as a reporter and news anchor for Metro Networks and KABC-AM for nearly two decades.
He has written about radio for The Los Angeles Times, Radio World, Downtown News, LA Radio Guide and for a decade, penned a weekly radio column for the Pasadena Star News, San Gabriel Valley Tribune and Whittier Daily News. Sandy is also very active in the Los Angeles theatre scene as an actor and producer. In 2008 he won an LA Weekly Award for Best Male Comedy Performance as the title character in the political satire "Fatboy" by John Clancy.
The Repository thanks Sandy Wells for sharing!